This week Celebrity Chef from Ready Steady Cook & Fellow Master Chef Steven Saunders, proprietor of The Little Geranium in La Cala cooks a meat dish using chocolate from a local chocolate factory in Mijas.
Everybody loves chocolate and when I first introduced chocolate into a savoury dish on my menus some 20 years ago people were surprised and looked upon it as a bit weird.
The guy in the hat has chocolate sauce on his meat, they would say! But cocoa or chocolate has been used for hundreds of years for savoury dishes especially in Mexico where their national dish Mole (pronounced Mol-Lay) was created early 1800's using chocolate to soften, thicken and flavour the sauce.
I have often included a little bit of high cocoa chocolate with low sugar into a sauce to go with venison or game and clients love the texture and depth of flavour that it adds to a reduced meat stock making it super smooth. Recently one of my clients was raving about my venison dish served with chocolate jus at The Geranium and as I was discussing it with him, I realised who he was.
It was the man I call Willy Wonker from Mayan Monkey Mijas in Mijas pueblo, Jason Godwin. Come and see me at the factory in Mijas, Jason said. We went the following week and when we arrived in Mijas pueblo it was easy to find in the main square of this lovely little pueblo. Jason greeted us and showed us around his factory with gushing enthusiasm for his chocolate sourced by using ethical means.
In other words, ethical chocolate does not use child slaves to harvest the beans and the cocoa farms are sustainable usually from places like Peru and Venezuela. We don't buy from the Ivory coast he said with pride, it costs a lot more this way, but we don't care it is nice to sleep at night knowing that we are creating jobs rather than helping to create child slavery!
Children from local schools queued for the express workshop experience where they get to take a tour and then make their own chocolate bars and take them home afterwards, although other workshops are available like the wine tasting with chocolate workshop, which appeals to me!
Jason showed us how the cocoa bean grinder worked and how to make chocolate from the bean to the bar so to speak. Mayan Monkey also make ice cream using organic milk, cream and chocolate of course! What's really fantastic about Jason and his wife Eli is their dedication to quality and to education. Jason is always enthusiastically explaining to guests how the cocoa grinder or the roaster works or showing clients how they make the packaging using the historic Heidelberg printing press (Heidi) from the late1800's.
It's a fantastic experience, an education and a great day out. Enjoy coffee at their cafés after the tour and there are loads of traditional tapas restaurants in Mijas. A real treat for the kids!
I recall when my girls were young, we had a chocolate truffle thief in the Pink Geranium restaurant. Rod Stewart loves chocolate and had been in the night before and stayed late drinking, talking about football and we were missing a whole tray of chocolate truffles afterwards (about 60 pieces).
Staff commented on how awful it was that someone of his status would do that and they were discussing it. As they discussed, I could see the face of my five-year-old daughter Serena was bright red. Serena did you take the truffles? I asked. I didn't steal them dad, she said, I just borrowed them. So, when are you planning to return them? I asked her. When you show me how to make them, she said crying. I did show her a few years later, but I am still waiting for them to be returned!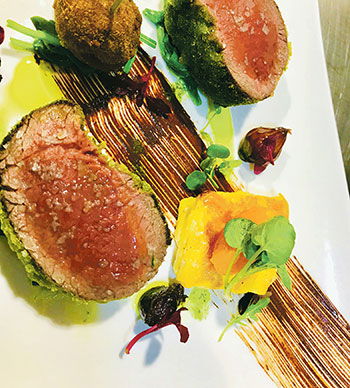 Saddle of Toledo Venison with chocolate infused sauce
Making restaurant style Venison Jus
Ingredients
About 2kg venison bones, chopped (get your butcher to do this)
4 leaves of gelatin optional or a little cornflour.
1 onion chopped
2 carrots chopped
1 leek chopped
2 sticks celery chopped
2 bay leaves
2 sprigs fresh thyme
Small bunch parsley
3 litres of cold water
1 tsp peppercorns
1 bottle of red wine
2 tablespoons of honey
50g of dark chocolate to finish
Method
Roast the venison bones until golden brown in a pre-heated oven 200ºC and then remove and drizzle with the honey and deglaze the pan with half of the red wine (pour it in).
Put the bones and everything else into a large saucepan and cover with three litres of cold water. If using gelatine leaves then now is the time to add them. Bring it all slowly to the boil, then simmer and cook for two/three hrs or until the liquid reduces by two-thirds to around one litre.
Strain into a smaller clean saucepan.
Now add the other half bottle of red wine and reduce vigorously by half until the sauce is thick and coating consistency.
The stock can be made ahead and chilled or frozen for up to one month.
Reserve the chocolate to finish the sauce see below.
Cooking the Venison
For this recipe you will need approx 200g of meat per portion
Ingredients for 2
400g of lean venison saddle
1 sprig of thyme or rosemary
50g of unsalted butter
2 tablespoons of virgin olive oil
1 clove garlic peeled and crushed
Fresh milled black pepper
Maldon salt
Method
Heat a non-stick frying pan and add the olive oil and then the butter, keep the pan on a moderate heat.
Season the venison with salt and pepper and add to the pan to seal all over. Add the garlic and thyme at this point.
Baste and turn the venison fillets until evenly coloured.
Remove from heat and retain cooking juices from the pan.
When ready to serve simply roast the venison in a hot oven 200ºC and use the cooking juices above to help keep it moist.
Cook for approx four minutes and then remove and rest for about five minutes.
Whilst resting take some of the reduced stock above and reduce even more on a very high heat.
Add the chocolate and whisk in until the sauce is thick and smooth, taste and season.
Slice the rested venison steaks in halves and serve with spinach or local asparagus and a little of the sauce.
Follow Steven on Instagram: saunderschef
Email any questions to [email protected]
The Little Geranium, Winner of Best Contemporary International Restaurant 2019-Costa Del Sol