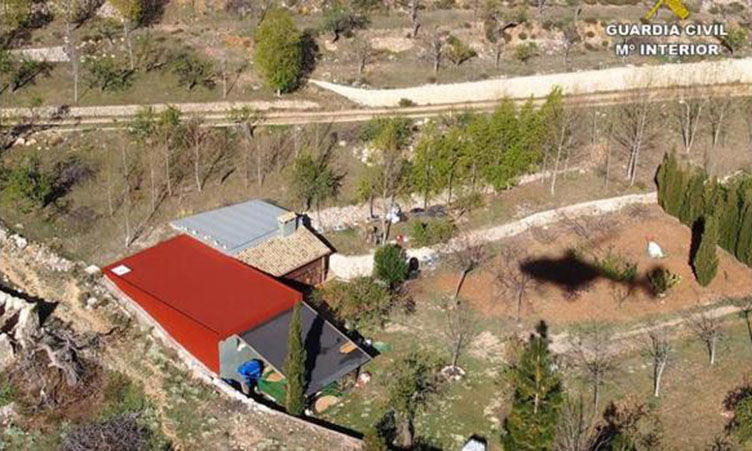 OFFICERS from the environmental protection group of the Guardia Civil, SEPRONA, have carried out 31 inspections across the province for possible urban and regional planning irregularities, arresting 22 people for a variety of related offences and crimes.
The list of administrative sanctions ranges from as little as €300 to half a million in one case, following the inspections carried out over recent months across the province, including in locations such as Hondón de los Frailes, Confrides, Benifato, Villajoyosa, Pilar de la Horadada, Callosa d'en Sarria, Orihuela, San Vicente del Raspeig, Petrer and the city of Alicante.
The inspections are to ensure compliance with the legislation governing the Regional Planning and Urban Development laws, and in the first stages of the investigations were carried out by helicopters belonging to the corps, when 31 properties were identified as requiring further investigation.
Stage two saw protocols established which would enable officers to monitor the activities at the target premises, to ensure that the buildings were being used for the purposes set down, and that all subsequent environmental laws are also adhered to, including waste and water management, for example.
The final stage was to conduct a thorough inspection of the properties on the ground, based on the intelligence gathered, and question the owners before concluding the files to present to the courts for infractions against such severe environmental infringements as those which protect the local flora and fauna, once it has been verified that these buildings were located on land classified as protected the Natura 2000 network, namely Sites of Community Importance (SCI) and Special Protection areas for Birds (SPAB).
The courts will analyse each case on individual merit, with fines the least painful outcome, as those more serious infractions will find the properties demolished and the land having to be returned to its original state, at the expense of the property owner.