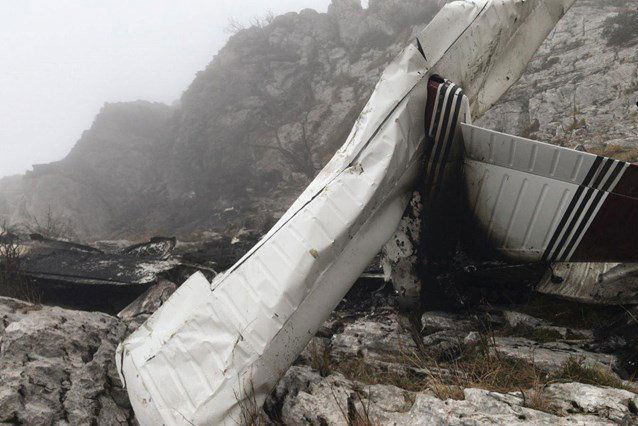 TWO people found dead after a plane crash in the Basque Country in northern Spain yesterday (Wednesday), are believed to be British tourists.
The UK-registered Piper PA-28 Cherokee crashed at around 2pm in the province of Gipuzkoa having taken off from the Portugese town Cascais, earlier in the day.
According to reports, the light plane was travelling towards Hondarribia airport close to the Spanish-French border when it crashed on the 1,078 meter Mount Ernio, which was covered in mist at the time.
While the nationality of the two people on board is unconfirmed, the authorities believe that the two people on board may be English tourists.
A rescue search was launched afternoon after a witness heard an explosion and contacted the regional police.
Ground teams found the first body at the burned out wreckage at 3.45pm yesterday.
The second body was found this morning around 10.30am after the search was suspended around 6pm last night due to a lack of light.
According to the emergency technician, the rescue operation was complex due to the physical geography of the mountain.  He said the plane was in an unstable area.
A Foreign Commonwealth Office spokesperson said further information is being sought from the Spanish authorities and the office 'will do all it can to assist any British people who need help'.
In the last 15 years, there have been nine recorded deaths following plane crashes in the Basque Country.
Hegazkina aurkitu dute gustiz matxuratuta pic.twitter.com/1kMvusm69R

— SOS Deiak – 112 (@112_SOSDeiak) January 9, 2019
Spain- Uma avioneta Piper PA28 que partiu de Cascais despenhou-se no País Basco, em Espanha, esta quarta-feira. Há pelo menos um morto confirmado, segundo a imprensa basca.
https://t.co/jeJc5XvpeJhttps://t.co/WuuptGKGQ7 pic.twitter.com/Kwb9Qb3uKh

— PLANES OF LEGEND (@PlanesOfLegend) January 9, 2019