SPAIN'S Costa del Sol and Malaga holiday hot spots are bracing themselves for torrential rain and potential flooding today (Saturday) as the severe weather warnings for the areas have been upgraded to RED overnight by the official Met Office AEMET.
The RED ALERTS for the Sol and Guadlahorce areas of Malaga are in place from 6am until 6pm – although the emergency services report that no rain has fallen in those areas as of 9am. From 6pm onwards the warnings will be downgraded to YELLOW ALERTS which will remain in place until midday on Sunday.
Almeria and Granada in Andalucia have ORANGE ALERTS in place, as does Tarragona in Cataluña, Castellon in the Valencia Community, and Murcia.
A large number of other areas have YELLOW ALERTS for heavy, rain, thunderstorms and high coastal waters (see below).
The 112 Andalucia emergency control centre has issued a warning for everyone to be prepared – especially if you are driving – and never try to cross a road that is flooded.
The advise they are fully prepared to coordinate any emergency actions that are necessary.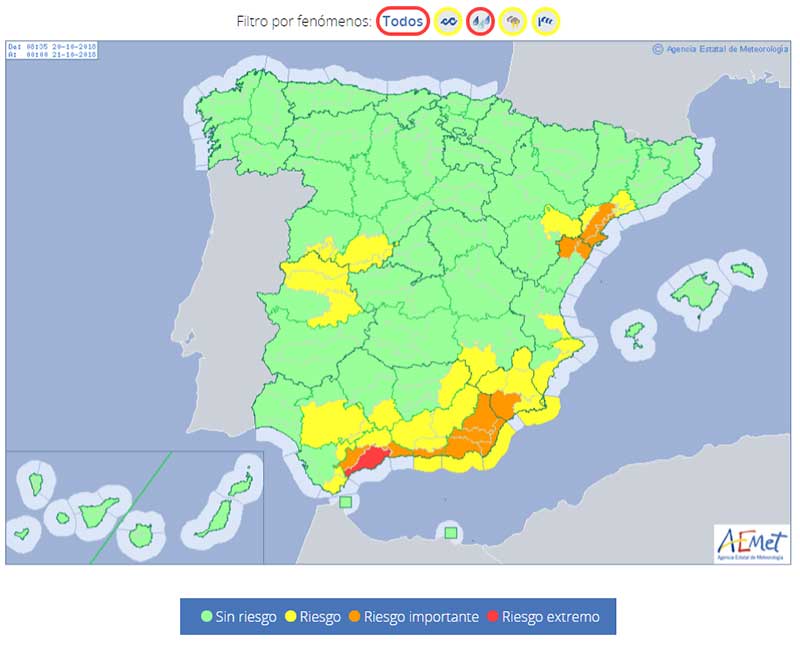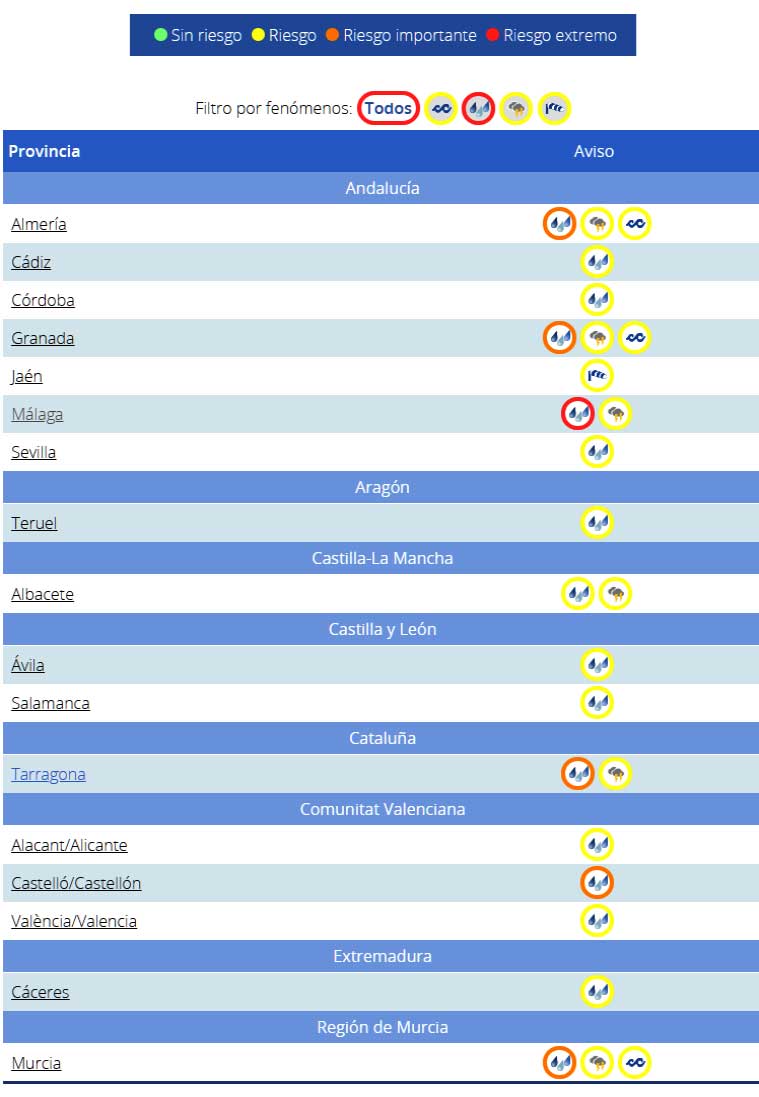 🌧️🌧️Hoy prepárate con paraguas☔️, botas… y mucha precaución!! ⚠️ Si tienes que conducir, extrema la atención, respeta las normas de circulación y no cruces nunca en automóvil por lugares inundados #BuenosDías pic.twitter.com/s06TbYM3CX




— Emergencias 112 (@E112Andalucia) October 20, 2018
Desde el centro provincial #112Málaga se sigue la evolución del frente de #lluvias🌧⛈. Aunque por el momento no se han producido precipitaciones en la zona -donde está activo el aviso ROJO para Sol y Guadalhorce- todo está preparado para coordinar las actuaciones si es necesario pic.twitter.com/0bGwVn3QnP

— Emergencias 112 (@E112Andalucia) October 20, 2018