BRIT tourists face being stranded abroad again after the shock collapse of the Cobalt Air – which flies thousands of British holidaymakers to the Med every year – went bust yesterday.
The Cypriot carrier said in a shock statement last night: "Cobalt regrets to announce that it will be cancelling all flights as of 23:50pm on October 17, 2018 due to indefinite suspension of Cobalt's operations.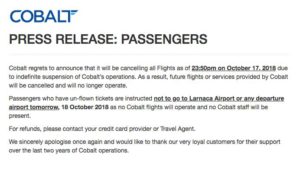 "As a result, future flights or services provided by Cobalt will be cancelled and will no longer operate.
"Passengers who have un-flown tickets are instructed not to go to Larnaca Airport or any departure airport tomorrow, 18 October 2018 as no Cobalt flights will operate and no Cobalt staff will be present.
It comes just weeks after the collapse of Primera Air which flew routes between the UK and Spain as well as long-haul services. The demise of Primera Air left thousands of passengers scrambling to find flights home and customers with future bookings having to seek refunds from credit and debit card companies.
Following on from that collapse the easyJet chief executive Johan Lundgren warned that more airlines are likely to fail due to rising fuel costs.
He recently told the annual convention of the ABTA travel trade association in Sevilla, Spain: "The fuel price being up there and perhaps continuing to increase will put some of those weaker players in a more difficult situation.
He said "weaker players" face increasing pressure amid the price of oil reaching around 85 US dollars a barrel, compared with 69 US dollars in April.
Mr Lundgren said he expects more consolidation in the aviation industry, with successful airlines or airline groups taking over struggling carriers.
"I think there will be a consolidation from the fact that we're going to see more failures."