A VOLUNTEER working in Sant Llorenc, Mallorca to help clean up after last week's devastating floods offered King Felipe a broom during the Spanish monarch's official visit to the island.
As King Felipe greeted the volunteers to commend them for their efforts, Oscar Tarela, from Palma de Mallorca, was captured on video offering a broom and inviting the king to join the cleaning teams.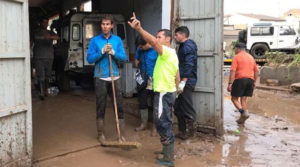 The monarch, who was on an official visit to the island following severe floods which killed 10 and has left a young boy missing, rejected the broom and offered Mr Tarela instead, a handshake.
King Felipe used his visit to Mallorca to meet with families of those affected by the flood, he also spent time greeting many of the volunteers who had travelled to Sant Llorenc to assist the large-scale cleanup operation underway in the town.
The video of the volunteer, Oscar Tarela, giving the broom to the monarch has since gone viral, and Mr Tarela has since stated it was not his intention to "waver the King".
He allegedly said in response to King's offer, however: "with a handshake, to me at least, it does not help me at all," which was met by a playful pat on the arm by the monarch.
The cleanup operation will continue for the foreseeable future with stars such as Mallorcan tennis star Rafael Nadal pitching in to help.
Two Britons in taxi die during Mallorca flash floods