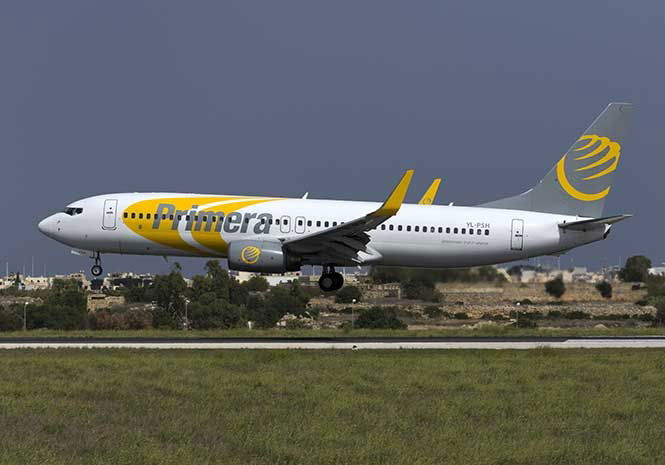 THOUSANDS of British passengers have been left stranded tonight as another low-cost airline has ceased trading a year on from the collapse of Monarch.
As rumours began to circulate about its demise this afternoon (Monday), it was claimed that Primera Air was still trading selling tickets on its website.
But a statement later released on their website said: "Dear Passengers, airline Primera Air and IATA codes PF and 6F have been suspended as of today, October 2nd, 2018. On behalf of Primera Air team, we would like to thank you for your loyalty. On this sad day we are saying Goodbye to all of you. Please visit primeraair.com for further updates in next few days. Tour Operator passengers are kindly suggested to address their Tour Operators and Agents for further information and actions. Kindly understand that the usual options for contacts (via email or phone) can not be offered any longer. Sincerely yours. Primera Air team"
Primera Air, which was Icelandic-owned but had operations based in both Latvia and Denmark, had run charter operations mainly serving Nordic passengers for around 15 years.
Earlier in the summer the budget airline announced that it was cancelling all autumn and winter flights from Birmingham Airport and also cutting some services to Spain from London Stansted.
They also stopped running services between Birmingham and Mallorca and Barcelona from September 3.
Routes between Birmingham and Alicante, Las Palmas, Malaga-Costa del Sol and Tenerife were due to stop on October 29.
And, in addition, Primera Air dropped its Stansted-Alicante route on 30 September, and had announced some flights from Stansted to Malaga-Costa del Sol were being cut from 1 October.
The Latvian carrier said it was due to a lack of demand for tickets despite positive signs from trading earlier in the summer.
In June Primera Air suspended services from Birmingham to New York and Toronto.
The airline had said the cancellation of the Newark service, which launched in May, was because of the late arrival of long-haul A321neo aircraft from Airbus whereas the Toronto route never even got off the ground.
Primera Air also said last year that it would launch new flights to Boston from June 2018 but announced in January that the plan was being abandoned due to poor take up.
As the airline has now ceased trading it is believed other carriers will step in and offer special repatriation fares for stranded passengers.
Passengers with Primera Air tickets will need to claim from their credit card company or travel insurer – unless they are travelling as part of a package, in which case the tour operator must provide a refund or alternative flights.
Passengers who are owed compensation as a result of cancellations earlier in the summer are likely to be out of pocket. It appears that the airline had told passengers to book on alternative airlines, with the promise that Primera Air would refund them.
Dear Passengers,
Airline Primera Air and IATA codes PF and 6F have been suspended as of today, please find more information here: https://t.co/DgKuVIZB5S

— Primera Air (@primeraair) October 1, 2018