SPAIN'S national weather agency, AEMET, has upgraded its severe weather warning to ORANGE for Malaga and the Costa del Sol tomorrow (Saturday).
The Sol, Guadalhorce and Axarquia areas are now on a higher state of alert for heavy rain and thunderstorms.
Throughout the rest of the peninsula there is also a raft of yellow weather alerts for severe weather (see below).
The state weather agency has said that a DANA, an isolated high-altitude depression, is expected which, together with the presence of a warm and humid flow from the Mediterranean, will cause a marked instability of the atmosphere across much of the country with showers and storms – mainly in the east and southeast.
Between Saturday (September 8) and Monday (September 10) with the DANA most likely centered on the southwest and the east the most affected areas will be eastern Andalucia, the Strait of Gibraltar, Melilla, Murcia, the Valencian Community and the eastern side of Castilla La Mancha. The showers and storms will likely be strong and even very strong or persistent and localised hail storms may be experienced.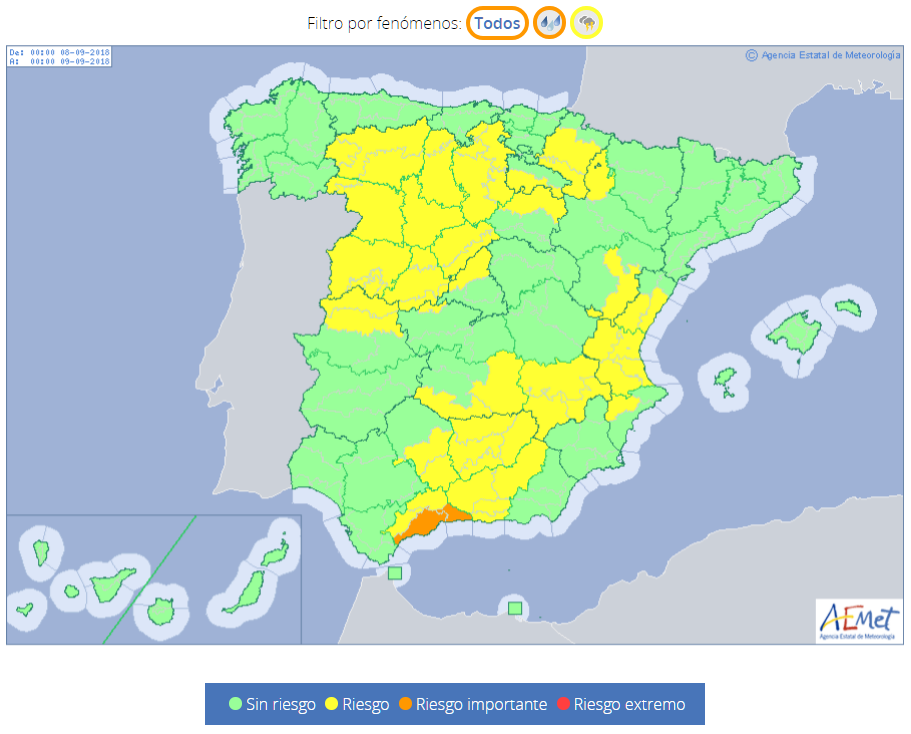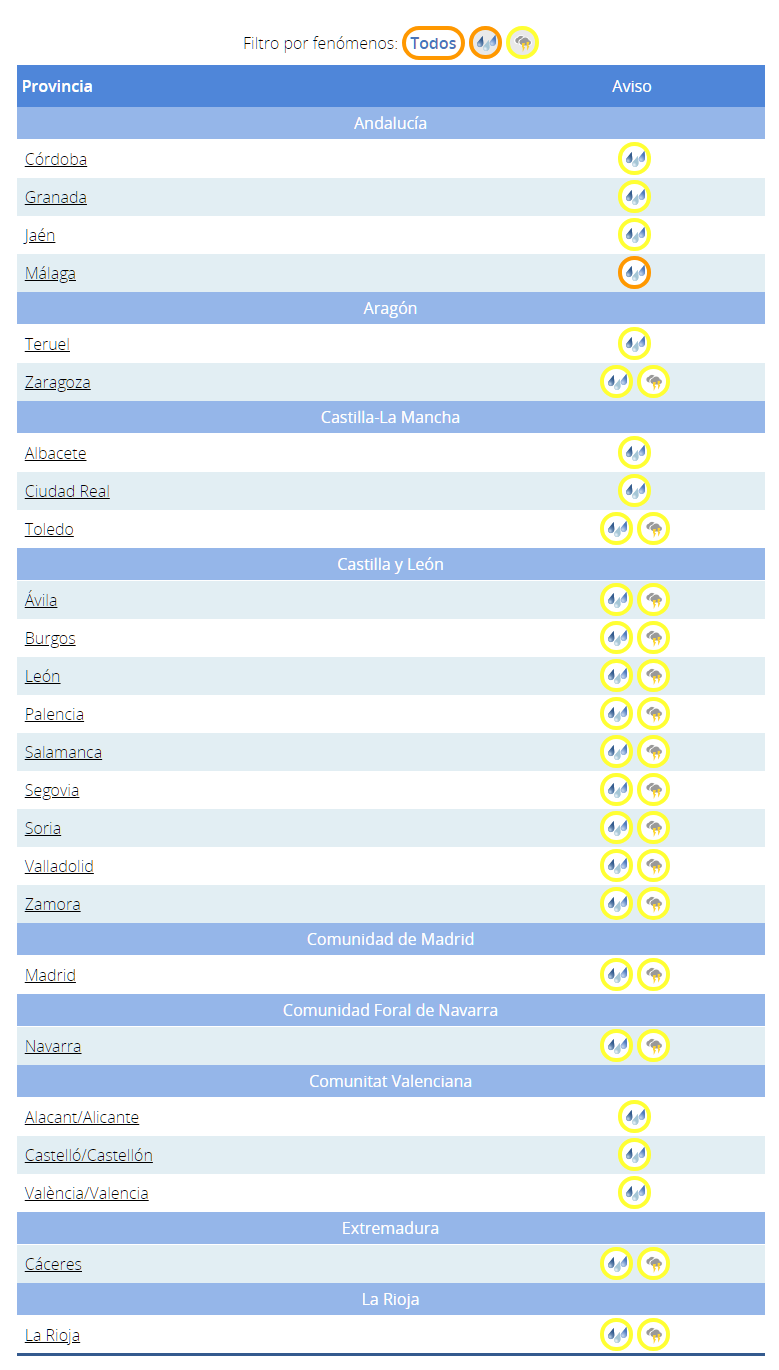 🚨 Cuando tengas que conducir estos días de lluvia 🚙🚛 extrema la precaución y como siempre respeta las normas de circulación e indicaciones de los paneles de tráfico. No estaciones tu vehículo ni acampes en cauces secos ni junto a orilla de los ríos 🏕️#Consejos112 pic.twitter.com/yvsnOPamTp




— Emergencias 112 (@E112Andalucia) September 7, 2018
.@AEMET_Andalucia activa para mañana el aviso naranja por #Lluvias en las comarcas malagueñas de #Axarquía, #Sol y #Guadalhorce. Aviso amarillo por #lluvias en #Jaén #Córdoba #Málaga y #Granada pic.twitter.com/5bZoG3Emac




— Emergencias 112 (@E112Andalucia) September 7, 2018
Durante los días de lluvia 🚗🌦️ si tienes que conducir, no debes circular por una carretera inundada ni cruzar un puentes o pasos subterráneos anegados. Evita viajar de noche,🌙🌨️ los obstáculos y peligros causados por la lluvia son más difíciles de detectar #Consejos112 pic.twitter.com/R63K8povU1

— Emergencias 112 (@E112Andalucia) September 7, 2018