A TOBACCONIST from the village of Ranadario, with a population of just 16, in Asturias, Spain is being held responsible for botching the restoration of a collection of church sculptures that date back to the 1400s.
The sculptures of the Virgin Mary, Baby Jesus and Saint Anne were wooden carvings, which had remained in their original state for centuries.
However, when a local lady volunteered to restore the carvings they received a garish paint job featuring colours ranging from fuchsia to "lettuce green".
The restoration of the three figures has been particularly criticised after the woman appears to have given the Virgin Mary 'eyeliner' and bright pink 'lipstick'.
Spanish reports suggest that the sculptures had been meticulously restored in 2003 by Luis Saro, professor at the Superior School of Art, Asturias.
Saro branded the fresh restoration as a "disaster" and an "aberration".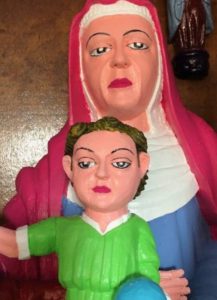 The eye-catching fresh restoration was conducted with the full permission of the village's priest.
It is unknown if the sculptures can be salvaged and restored to their original state.
The restoration is not Spain's first incident involving a disastrous restoration of a classic art piece.
In 2012, during the widely reported 'Ecce Homo" case from Zaragoza in Spain a local woman turned her amateur hands to restoring a painting of Jesus Christ, the resulting work was dubbed a 'hairy monkey' by some critics.