A SHOCKING new report claims that the plastic security trays that we all use at the airport carry more respiratory viruses than public toilets.
Researchers said, "To our knowledge, security trays are not routinely disinfected."
The study set out to investigate the presence of respiratory viruses in the passenger environment of a major airport in order to identify risk points and identify measures to minimise transmission.
Samples were collected weekly at three different times of day from various points along the passenger journey, from handrails on escalators and lift buttons to trolley handles and toys in the children's play area at a major international airport.
Of the samples tested, security trays were found to pose the highest potential risk of viral contamination, with four of eight samples testing positive. Respiratory viruses detected on the trays included deno, influenza A, rhino and human corona OC43.
In comparison, of the 42 samples taken from three areas in the airport's public toilets – the toilet bowl lid, the flush and the lock – none contained any detectable respiratory viruses.
Researchers said that international and national travelling has made the rapid spread of infectious diseases possible but little information is available on the role of major traffic hubs, such as airports, in the transmission of respiratory infections, including seasonal influenza and a pandemic threat.
The study made recommendations for stopping the spread of disease at airport security areas.
"The risk of this procedure could be reduced by offering hand sanitization with alcohol hand rub before and after security screening, and increasing the frequency of tray disinfection," it said. "To our knowledge, security trays are not routinely disinfected.
"Although this would not eliminate all viruses on hands, (e.g. alcohol gels have been found to be less effective than hand-washing for rhinovirus), it is effective for many viruses, including influenza."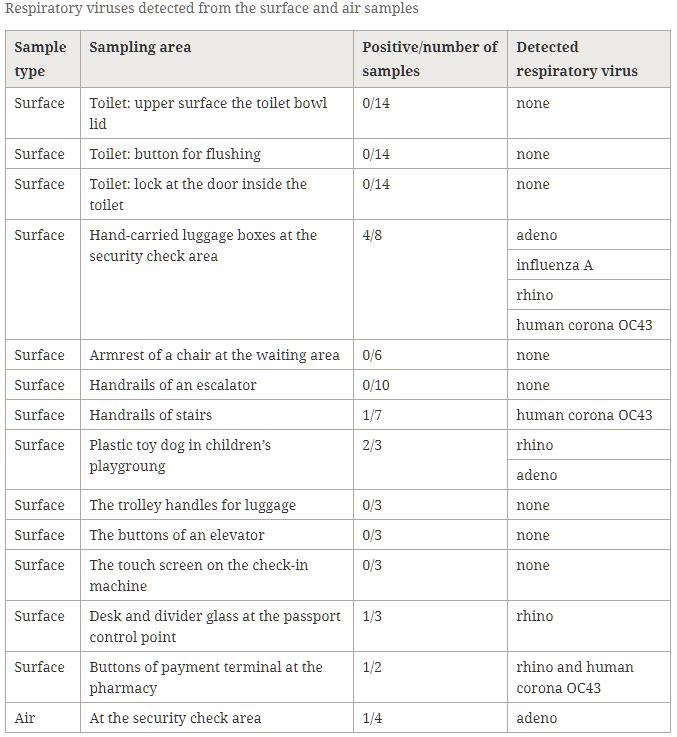 The study, called Deposition of respiratory virus pathogens on frequently touched surfaces at airports, was based on 90 surface samples and four air samples collected at Helsinki-Vantaa airport over the course of three weeks in 2016.