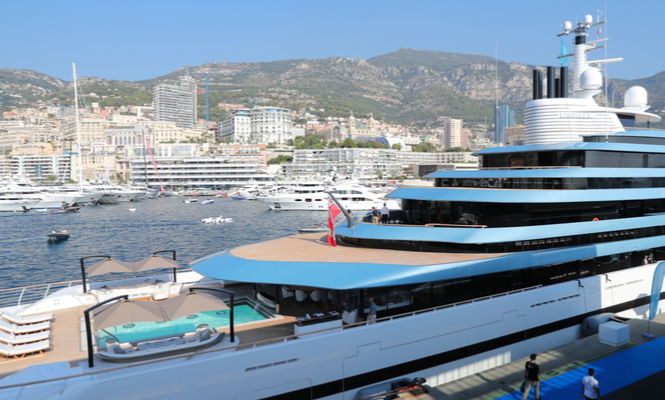 From 26-29 September 2018, "Ultra High Net Worth Individuals" and superyacht lovers from around the world will flock to the Principality of Monaco to attend the Monaco Yacht Show.
The most magnificent annual exhibition of superyachts will display 120 giant vessels in Port Hercule of Monaco.
At one time an indicator of cost was a rule of thumb US$5 million per metre of length, of course it's just a rule of thumb in actual fact there is not really an upper limit with some of the giants reputed to have original build costs of more than US$400 million. To build is one thing to own is another, running costs are eye-watering, what with highly skilled and dedicated crews that number in some cases 20 and more per yacht, then there are the essential 'toys'. Submarines and dive stations, helicopters and seaplanes as well as custom-built tenders. Tenders are those are the smaller boats that carry owners and guests from shore to ship and back again, some can cost upwards of US$3 million each, I dare say more than a pretty luxurious Spanish villa with or without a private pool.
The superyacht KISMET is expected to be one of the 120 going to the 28th edition of the Monaco Yacht Show and at 95.2 meters length overall will be the largest superyacht on show this year. A Lurssen Yachts shipyard of Germany custom build and launched in 2014 the yacht's interior was designed by Robert Langton Design with the exterior by Espen Oeino. KISMET is without question the epitome of luxury.
Already own a superyacht? Then you need a "Superyacht Support Vessel" to carry and help you to deploy all the necessary extras to ensure that perfect communion with the sea. Crucially stops all the toys cluttering up the deck of your principal yacht. Damen a Dutch shipyard will be exhibiting POWER PLAY, delivered this summer 2018, is a DAMEN-built Yacht Support vessel with an adventure configuration. The sixth delivery of the popular YS 5009 design from the DAMEN Yacht Support range, POWER PLAY offers a blend of adventure and superyacht support functions, including new design enhancements such as a 50 square-metre Aft Adventure Centre and Dive Centre and more autonomy and facilities for operating in zero-discharge zones such as marine nature reserves. POWER PLAY accommodates six guests staying in three suites, making her suitable for short breaks away from the mother yacht or even a complete yachting solution.
While you are visiting the Principality of Monaco you will, of course, be able to stay in some of the very best and iconic hotels in the world as well as enjoy the most exquisite cuisine and indulge in shopping opportunities and not just for superyachts.