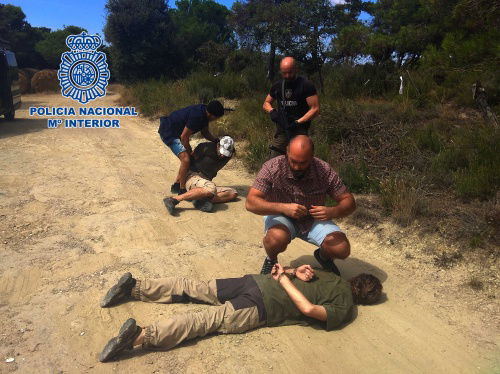 THE main suspect in the 1998 murder of an 11-year-old boy at a summer camp in the Netherlands has been arrested in a Spanish forest.
Jos Brech, 55, was recognised by a Dutch tourist who tipped off police after seeing a photo of the man wanted in connection of the sexual assault and murder of Nicky Verstappen.
The youngster had disappeared from the Brunssumerheide nature reserve overnight on August 9, 1998. His body was found nearby the next day. He had been sexually abused before he was killed, according to police.
The detainee was due to be brought before a court today (Monday) and could be extradited to the Netherlands within a few days.
Brech became the main suspect in the murder after the investigation asked 16,000 males aged 40 to 65 from Limburg, the area of the murder, to voluntarily submit to a DNA test.
Among the 2,000 who turned down the request was Jos Brech. As he had previously been questioned by police as a witness he quickly became a suspect.
When Brech – said to be a survival expert who could hide out in remote locations – disappeared from the country without saying a word to his family or friends an international arrest warrant was issued.
Acting on information from a Dutch tourist, Spanish police arrested Brech in a forest about 50 miles from Barcelona.
Originally Dutch and French police thought he may have been hiding out in the Vosges region where he owns a cabin. A search of his property allowed detectives to find DNA traces, which they say link him to the killing of Verstappen.
At the time of the murder police had launched a massive search, but the boy's killer was never found.
New techniques allowed police to garner DNA evidence from the boy's clothes in 2008, but no matching specimen could be found – so earlier this year police asked 16,000 men to voluntarily give DNA samples.
📹Así hemos detenido en #Barcelona a uno de los hombres más buscados por Holanda desde hace más de 20 años.
Presunto autor de la agresión sexual y asesinato de un niño de 11 años y experto en supervivencia, ha sido localizado en un monte cercano a Castellterçol. #EstamosPorTi pic.twitter.com/Iru8aS5hw3

— Policía Nacional (@policia) August 27, 2018