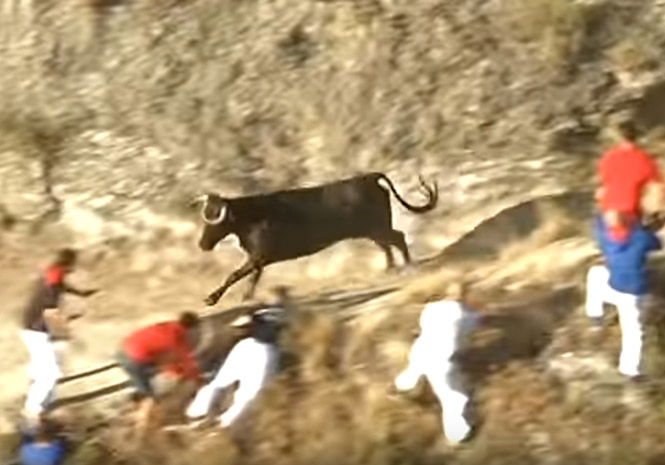 A BULL-RUNNING festival has left two people seriously injured and the organisers were forced to cancel the event after the bulls charged spectators and escaped.
A total of twelve people were injured during the Pilon bull run in Falces, in the region of Navarra, northern Spain.
After the bulls were released from their pen they charged down a track but deviated from the course and headed into the onlookers.
A group of men can be seen wrestling with a bull in the TV footage as they tried to free another that had been gored.
The event is widely considered to be Spain's second most popular bull-run after Pamplona.
Local media said that a 70-year-old man was among the injured after being gored in his arm.
After 20 minutes of chaos the organisers announced the cancellation of the event.
Eyewitnesses told reporters that the local authorities used tranquiliser darts to capture some of the runaway animals. But at least five are still thought to be missing.
?#Encierro del Pilón de #Falces sin heridos pero con vaca escapada incluida ? #FiestasDeFalces pic.twitter.com/xhFuVAxKCP

— Roberto Cámara Moreno??‍? (@RoberCamara) August 17, 2018
? VÍDEO Varios heridos en un atropellado #encierro del Pilón de #Falces. Éstas son las imágenes del momento #DeFiestaEnFiesta @navarratv @FalcesalDia pic.twitter.com/zUvZ85yJpE

— Roberto Cámara Moreno??‍? (@RoberCamara) August 16, 2018