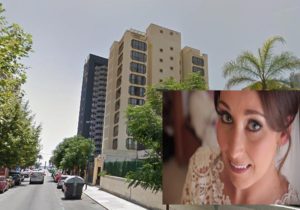 THE family of a Scottish woman who fell from a  tenth-floor balcony in Spain a year ago are pleading for answers from five witnesses.
Kirsty Maxwell, 27, from West Lothian, was on a hen party with friends in Benidorm when she plunged to her death on April 29 last year.
A probe into the circumstances surrounding the tragedy will be aired on BBC One tonight.
It is known she had been drinking with friends before she apparently left them for a different hotel room occupied by five men she did not know.
The men, all from Nottingham, have given statements to Spanish police, but Mrs Maxwell's family claim they 'can't grieve' because they say the men's stories do not add up.
Speaking as part of the documentary Killed Abroad, her mother Denise Curry said that all they have asked for is for the men to tell them what happened in the hotel room.
She said she "would like answers from them because Kirsty has no voice."
Her husband Adam, who she married in a dream wedding in Cyprus just six months before her death, also feature in tonight's programme.
He said that the circumstances surrounding it were "impossible to believe" and that they still are.
He has urged his Twitter followers to watch the documentary in a bid to find more answers, adding that while it will be painful to watch, it is incredibly important.
Joseph Graham, Callum Northridge, Ricky Gammon, Anthony Holehouse and Daniel Bailey were part of a group of 50 men on holiday together at the time of Mrs Maxwell's death.
In a previous statement, four of the men said the incident was a 'tragic accident' and argued their names had been 'dragged through the mud'.
But Mrs Maxwell's family believe the other 45 people may have answers, too.
Mrs Curry believes the clues to what happened lie in Benidorm and Nottingham.
And she hopes that as a result of the documentary, anybody with any information will come forward.
The programme will look at whether Mrs Maxwell climbed over the balcony, as opposed to being pushed.
Investigator Michael Brown, who recreated the young woman's death for the documentary in July, claimed she 'climbed out on a balcony before losing her grip and falling.'
The reasons behind why she would have done so in the first place and how she lost her grip and balance are unknown.
Mrs Curry and her husband Brian will feature on Killed Abroad, which also looks at the death of Craig Mallon, 26, who died in Lloret del Mar in Spain, which airs on BBC One Scotland tonight at 9pm UK time. Sky channel 951 or Virgin 862.