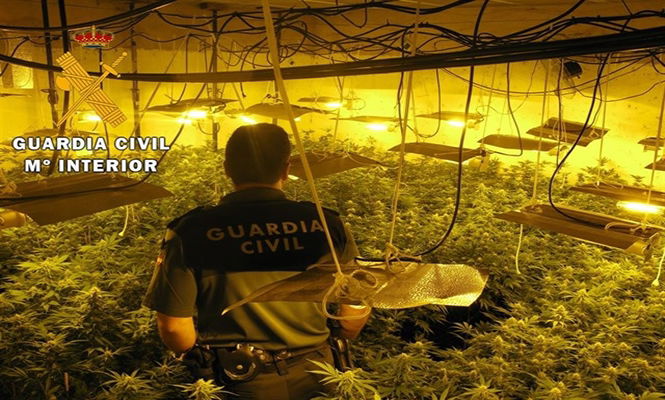 THE Guardia Civil has dismantled two indoor greenhouses in Vicar, Almeria that were cultivating 1,054 marijuana plants, arresting four people in the process.
In the first of two raids, officers initially noticed a van with a French licence plate outside a house, with the keys in the ignition and signs of having been broken into, but with no one inside.
As they were making inquiries into the ownership of the van, four people came out of the house but on seeing the policemen looked startled, and turned to go back inside.
Observing their reaction, the officers followed them and arriving on the patio they detected a strong smell of marijuana.
When the four men were questioned about this, they replied that they did not own the plants, they only looked after them.
A total of 794 plants were seized from the house, along with air conditioning machines, filters, lights, and an illegal electricity network.
The detainees are aged 36, 41, 36 and 22, and are all residents of Vicar.
In a separate incident, the Guardia Civil noticed a man jumping over a wall into a street in Vicar, but when he noticed the officers he ran away.
As he fled, he jumped over a metal fence into a farm and managed to escape from the police.
However, they inspected the house from which the man had exited, and discovered 260 marijuana plants, as well as a range of electrical equipment used to grow them.
There was also a pitbull running loose in the back yard, which was handed over to a local animal charity.