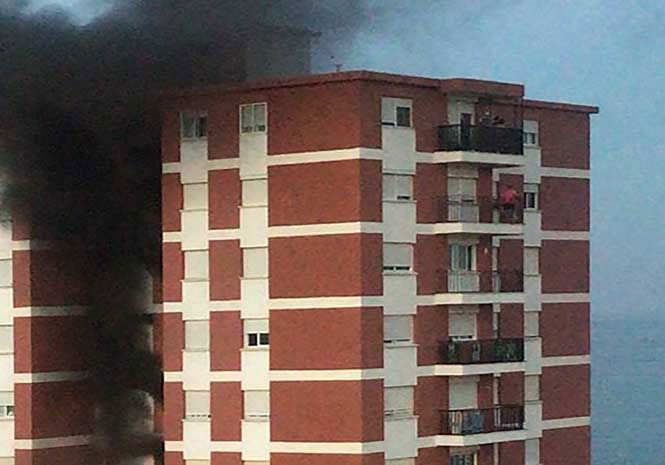 A FIRE that broke out at an apartment block on the Costa del Sol this evening (Wednesday) is under control according to sources at the scene.
A huge plume of black smoke could be seen rising from the high-rise block in Manilva, near Estepona as residents could be seen standing on their balconies.
Emergency services were quickly on the scene with firefighters from Manilva and Estepona in attendance.
The 112 Andalucia control centre said 14 people were treated at the scene and a 71-year-old male was transferred to the Costa del Sol Hospital. They confirmed the entire building was evacuated and around 150 residents were not able to immediately return to their homes due to the 'smoke concentration'.
Manilva Town Hall said that it had provided accommodation in hotels in the area to 25 people while the rest spent the night at the homes of family and friends.They will be able to return once the area has been ventilated and is smoke-free.
It is believed the fire started in an electrical box.
Incendio ya controlado en el cuarto de contadores de este edificio. Afortunadamente no hay que lamentar daños personales. @cpbmalaga #incendio #sabinillas pic.twitter.com/eo1lRgXLOp

— Manilva WebSite (@manilvaws) August 15, 2018



Salida dotaciones B. Manilva y B. Estepona por incendio eléctrico en el termino municipal de #Manilva.

— CPB Málaga (@cpbmalaga) August 15, 2018
?Un incendio ?anoche en un edificio ?de #Manilva se salda con 14 personas atendidas y un varón de 71 años trasladado al Hosp. Costa del Sol.

▶️El edificio entero fue desalojado y 150 vecinos no han podido pernoctar en el lugar debido a la concentración de humo.

— Emergencias 112 (@E112Andalucia) August 16, 2018
▶️El Ayuntamiento de Manilva ha proporcionado alojamiento en establecimientos de hoteleros de la zona a 25 personas; mientras que el resto ha pasado la noche en casa de familiares y amigos. Los vecinos podrán volver una vez haya quedado la zona ventilada y libre de humos.

— Emergencias 112 (@E112Andalucia) August 16, 2018