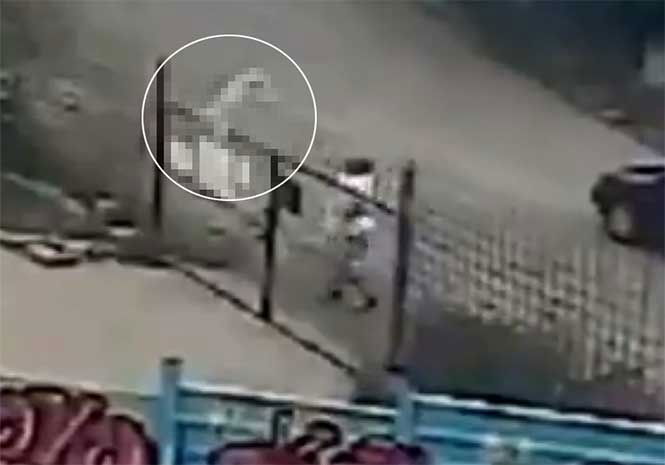 POLICE in Spain are hunting a 'savage' man after he impaled a dog on a spiked fence while throwing it into an animal shelter to abandon it.
The man drove up to the rescue centre in his car before picking up the puppy and trying to hurl it over the spiked gate. But the dog became impaled on the fence, before falling to the ground outside the compound.
In the distressing video below the callous killer can then be seen picking up the dog again before throwing it higher over the fence and into the compound before calmly driving off.
The puppy was later found dead in a pool of blood by animal rescue centre workers after it had bled to death from its injuries.
Now, staff at the Asociación Protectora de Animales de Santander shelter in San Roman de la Llanillahave released shocking security camera footage of the incident in an effort to find the man.
The Seprona branch of the Guardia Civil is also investigating the incident.
A spokesperson for Asproan said, "We want to ask you for help to spread this video and to be able to find the savage that did this to a poor puppy.
"In the images you can see how it is thrown over the fence, impaled on the spikes of the gate, and then he throws it again with a tremendous force.
"The result of this was that the poor puppy of about 6 or 8 months of age was found dead with a big hole in his gut and lying a pool of his own blood.
"We need to find the person responsible for this act so cowardly and miserable so that the force of justice falls on him and the whole world knows the kind of being so disgusting that it is, please have if between all of us we get to give clues to the Seprona to be able to find this coward."
#SEPRONA de #Cantabria investiga la muerte de un perro que fue lanzado por encima de una verja y se quedó clavado encima de los hierros.
Los hechos ocurrieron el día 08 de agosto en un centro de animales de #SanRomándelaLlanilla.
Si sabes algo:
#062 ?
[email protected] pic.twitter.com/zn8An44mqs

— Guardia Civil ?? (@guardiacivil) August 14, 2018