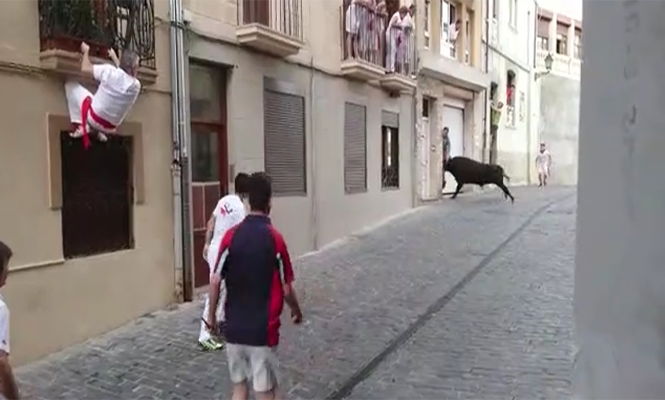 FOOTAGE has emerged of a man being tossed into the air and gored during a bull-running festival in Navarra, northern Spain.
The man, who was filming the stampeding bulls on his tablet at the time, had stationed himself in a doorway.
For 30 seconds the bull rammed the onlooker relentlessly, shaking, dragging and hurling the man around as other bull runners attempted to redirect the bull's attention. 
The gored man walked away from the ordeal but attended the local Garcia Orcoyen hospital where it emerged that he sustained serious goring injuries to his left leg. 
It is reported that the bull gored another man who was rushed to hospital before returning to its pen at the bullring.  
The bulls, from a local ranch in nearby Larraga, are released annually through the narrow streets of the town of Estella. 
The event is a tradition held to celebrate the festivals of San Andres and the Virgen del Puy. 
GORED: The man was helpless against the mighty bull 
Credit: Navarra.com