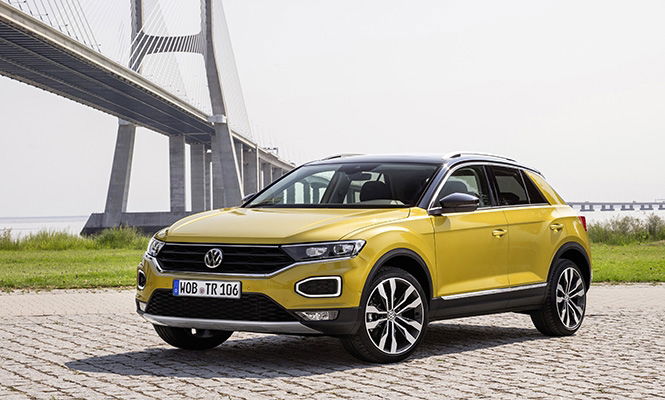 VOLKSWAGEN'S T-Roc, a mid-size 4-door SUV with a sporty coupé silhouette, is a real head-turner and establishes a new design cachet for the brand.
With its compact shape and lots of personalisation options, it comes with a choice of responsive engines and a new chassis that blends sporting fun with everyday comfort. Inside there's more space for passengers and luggage than in a VW Golf,  and another plus-point is the higher seating position for better visibility.
The line-up of engine choices feature three petrol and two diesel, with varying power outputs. Four-wheel drive is also an option, as are auto gearboxes with some engines, and prices start at €21,291 (£18,955) for the entry level S version.
However most buyers are likely to opt for the better-equipped SE version which has dual zone climate control, roof rails, front and rear reversing sensors, cruise control and connectivity including Apple CarPlay, Android Auto and smart-phone mirroring on its standard-kit list.
My featured model is the SE version with a 1.0 litre 3-cylinder 113 hp petrol engine – predicted to be the biggest seller – which has a 0-100 kph time of 10.1 seconds, top speed of 187 kph (116 mph) and fuel economy of 19.6 kpl (55.4 mpg). Emissions are 117 g/km. This version costs  €23,113 (£20,620).
The T-Roc has been awarded a five-star safety rating from Euro NCAP, thanks in part to its six airbags and advanced driver assistance systems. These include Electronic Stability Control and Lane Assist. In addition there is Front Assist, which uses radar to help prevent frontal accidents.
On the road, the T-Roc makes an instant good impression. It's small engine is quiet unless pushed hard, and there is minimal wind and road noise. It is beautifully balanced for composed handling on twisty roads, yet can be compliant and comfortable around town. The precise steering gives good road feedback and while the car isn't quite as sporty as some in its class, it is still nippy and does have a more supple ride for extra comfort.
The T-Roc ticks most of the essential boxes for would-be SUV buyers, and has the advantage of a more striking visual persona than most, important in an image-sensitive market.
Model tested was UK-specification and equipment levels and prices may vary in other markets.
Stats panel:
Model: Volkswagen T-Roc SE
Engine: 1.0 litre petrol
Transmission:  6-speed manual
Performance: 0-100 kph 10.1 seconds, top speed  187 kph (116 mph)
Economy: 19.6 kpl (55.4 mpg)
Emissions: 117 g/km