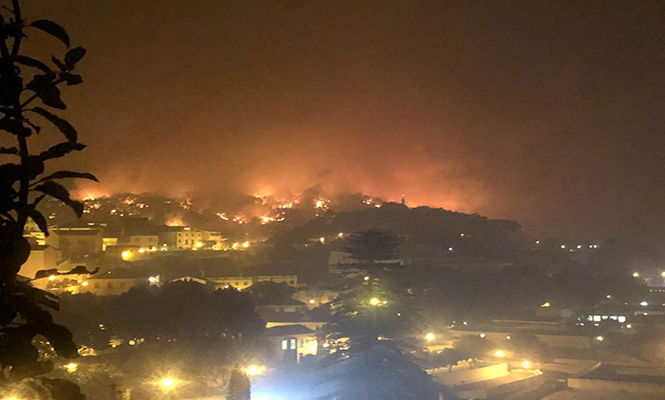 HUNDREDS of firefighters have been deployed in the Algarve to tackle a wildfire which has spread towards the Spanish border.
At least 740 firefighters, 12 aircraft and 122 vehicles have been deployed to the Sierra de Monchique to tackle the blaze which broke out last Friday.
Spain has sent two large aircraft to help Portuguese emergency services fight the fire and some unconfirmed reports today (Monday) place personnel numbers at more than 1,000.
It has since spread near to the towns of Tavira and Vila Real de Santo Antonio, both of which lie near Portugal's border with Spain's Huelva Province.
A total of 120 people in the Faro area had to be evacuated on Saturday following the outbreak of the fire the day before.
They reportedly had to leave their homes and belongings behind and several firefighters there received medical attention for exposure to heat and smoke.
Firefighters tackling the blaze in the Portimao area of the Algarve have reportedly been working double shifts in an effort to control the fire.
Personnel requested that people in the area bring them water, energy bars and energy drinks in order to avoid fatigue and exhaustion.
Several post on social media from locals and holidaymakers showed the flames spreading through woodland and hills near to their towns.
The blaze follows two major wildfires, one on the Portuguese mainland last year and another on the island of Madeira in 2016. Those blazes claimed the lives of almost 220 people in total.
Helicopters at the pool. Monchique (N 37º 19′ 11" W 008º 33′ 09"), Currently combating two fronts of forest fire.1085 firefighters, 2 planes, 5 helicopters, 317 firetrucks #monchique #Algarve #Fire #Portugal #wildfire #helicopter #plane #update pic.twitter.com/lKCbYjnRYK

— Massena Music (@MassenaOfficial) August 6, 2018
The bloody fire just arrived in to the village of #Monchique #Algarve and no one can control it, burning for the last 48 hours! ?? pic.twitter.com/GD8sO36M8V

— Maria José Fragata (@maria_fragata) August 5, 2018
we decided we were gonna leave as soon as we see flames from our window. on the road now, most cars coming our way are fire trucks. true heroes. stay safe everyone #Monchique pic.twitter.com/a0ZACWaycX

— Elisa Czerwenka (@elisaczerwenka) August 5, 2018