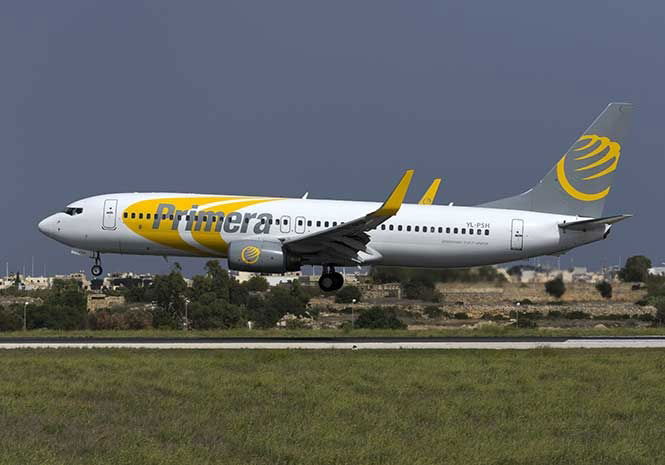 A LOW-COST airline has announced that it cancelling all autumn and winter flights from Birmingham Airport and also cutting some services to Spain from London Stansted.
Primera Air will stop running services between Birmingham and Mallorca and Barcelona from September 3.
Routes between Birmingham and Alicante, Las Palmas, Malaga-Costa del Sol and Tenerife will stop running from October 29.
In addition, Primera Air is dropping its Stansted-Alicante route on 30 September, and some flights from Stansted to Malaga-Costa del Sol are being cut from 1 October.
The Latvian carrier said it was due to a lack of demand for tickets despite positive signs from trading earlier in the summer.
In a statement the airline said, "All affected passengers have already been informed. We are committed to minimising any disruption and are deeply sorry for the inconvenience this may cause."
"Our priority is ensuring those affected passengers are compensated in compliance with EU261/2004, and alternative travel arrangements have been offered to them, as well as the option of a full refund if appropriate."
"We are committed to minimising any disruption and are deeply sorry for the inconvenience this may cause."
Birmingham Airport said in a statement: "We regret that, for operational reasons, Primera Air is unable to continue flying from Birmingham this winter.
"This is disappointing, especially as there is so much demand for these destinations.
"We are pressing the airline to provide refunds as quickly as possible to allow passengers to rebook with other carriers from Birmingham.
"We are very sorry for those people whose plans have been disrupted."
The latest news follows the announcement in June that Primera Air was suspending services from Birmingham to New York and Toronto.
The end of the Newark service, which launched in May, was because of the late arrival of long-haul A321neo aircraft from Airbus whereas the Toronto route never even got off the ground.
Primera Air also said last year that it would launch new flights to Boston from June 2018 but announced in January that the plan was being abandoned due to poor take up.