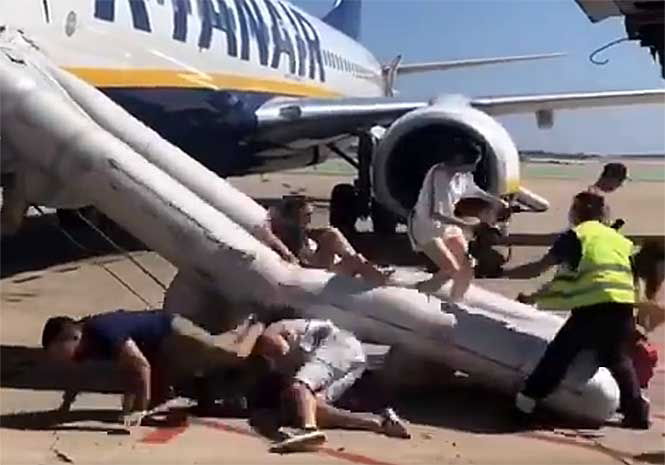 PASSENGERS on a Ryanair flight in Spain were evacuated down emergency chutes today (Tuesday) after a mobile phone caught fire as the plane was on the ground preparing to take off.
In videos shared on social media passengers could be seen tumbling down the inflated emergency chutes after they were deployed as the cabin filled with smoke.
The drama happened at Barcelona's El Prat Airport as the flight to the holiday island of Ibiza was about to take off.
Some passengers are reported to have suffered slight injuries as they slid down the emergency chutes but no-one needed medical attention.
The unnamed passenger whose mobile set alight is reported to be from New Zealand and the device was thought to have been in a suitcase in the overhead storage bin.
A Ryanair spokesperson said: "Passengers on a Barcelona-Ibiza flight (on the ground in Barcelona) this afternoon (31 July) experienced an emergency evacuation caused by a mobile phone catching fire as it was being charged by a battery pack.
"All passengers were safely evacuated back to the terminal and cabin crew dealt with the mobile phone. Ryanair worked to arrange a spare aircraft to re-accommodate these passengers with the minimum delay."