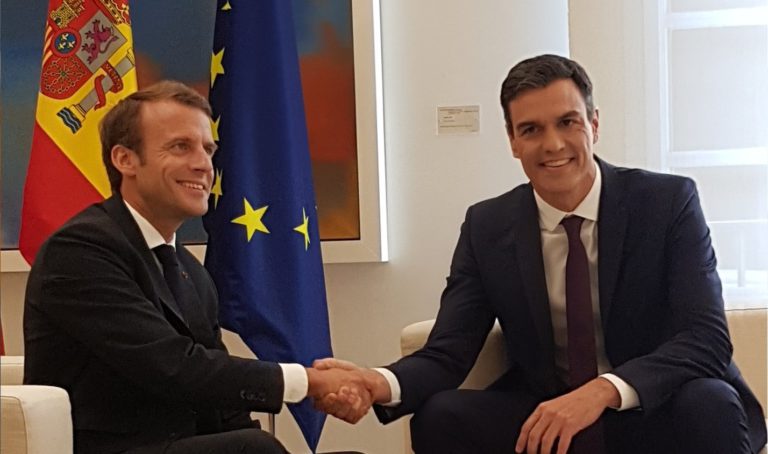 SPANISH Prime Minister Pedro Sanchez has received France's President Emmanuel Macron for talks at his residence in Madrid in what was the leader's first visit to Spain since taking office.
The Prime Minister welcomed the French head of state outside of La Moncloa in Madrid yesterday (Thursday).
They then held talks on issues including migration, trade and EU reform before holding a joint press conference.
?EN DIRECTO
Rueda de prensa del presidente del Gobierno de España y del presidente de la República Francesa. https://t.co/BHi8tLK3bu

— La Moncloa (@desdelamoncloa) July 26, 2018
The two leaders presented a united front on the current migration situation, with an eight point declaration issued calling for an approach based on solidarity and respect for human rights.
The Madrid Declaration on Migration Matters said Spain and France shared the same strategy to address the arrival of migrants and emphasised co-operation with other EU member states.
It added Spain and France supported lending more resources to tackle the rising number of arrivals in southern Europe and creating a "predictable approach" in line with international law.
"Spain and France are willing to reinforce their support for, and co-operation with, the countries of origin, transit and destination, especially with Morocco," the Declaration stated.
Sanchez and Macron also addressed the spectre of a trade war between the United States and the European Union following the former's decision to impose tariffs on some European goods.
Sanchez said any agreement between the US and the EU must be made with the approval of the bloc's Parliament and member states.
He adelantado con el presidente @EmmanuelMacron los detalles de la próxima ceremonia conjunta, a la que asistirán las víctimas del terrorismo, que escenificará el fin definitivo de ETA.
Engagés contre le terrorisme ???? pic.twitter.com/m56tGZSg1w

— Pedro Sánchez (@sanchezcastejon) July 26, 2018
"We do not want any trade war but the European Union has made progress that must be preserved," Sanchez said.
Macron said work was needed to lower "useless tension" between the US and the EU and added he was sceptical that Brussels and Washington could thrash out a trade deal.
"Neither Europe nor France ever wanted any trade war. A good business dialogue can only be done under a balanced and reciprocal relationship that is not threatening under any circumstances," Macron said.
"I am not in favour of starting to negotiate a broad trade agreement now because the current situation does not allow it," he added.
Le lien entre l'Espagne et la France est fort et historique.
À Madrid aujourd'hui avec Pedro @sanchezcastejon, nous continuons ce travail sur deux sujets principaux :
– les flux migratoires
– l'avenir de la zone euro. pic.twitter.com/WRSDVX6vOR

— Emmanuel Macron (@EmmanuelMacron) July 26, 2018
The two spoke as European Commission President Jean Claude Juncker met with US President Donald Trump in Washington for talks which aimed to stop a trade war.
Both leaders addressed further reforms to the EU and in particular to the bloc's Monetary Union.
Sanchez said: "We have to strengthen the Economic and Monetary Union now and not when we are in recession."
Macron said it was "essential" that the momentum of reform was maintained.
The French President later met with King Felipe for a dinner at the Royal palace of Madrid.
Both Sanchez and Macron are due to travel to Portugal today (Friday) for a summit in Lisbon on energy connections with Portuguese Prime Minister Antonio Costa and EC President Juncker.