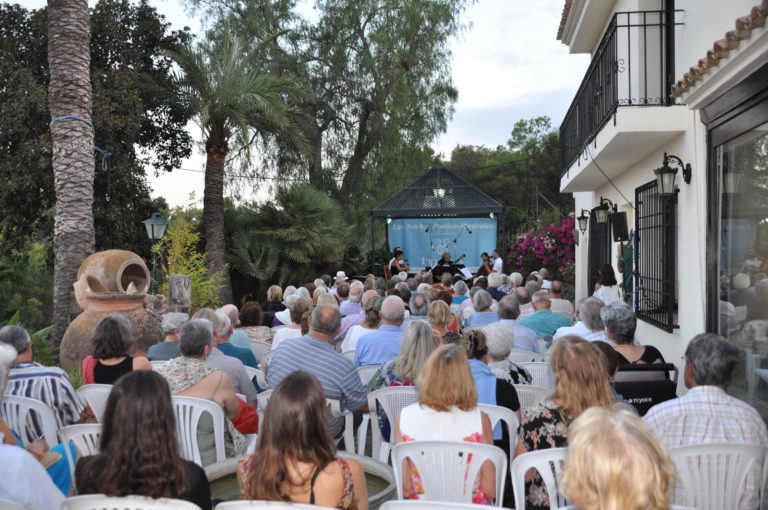 IF you would want to enjoy evenings of art, poetry and sensational sounds by some of the finest international artists then you need to head down to the five evenings of culture offered by the Fundacion Cultural ITHACA on the Costa Blanca.    
Enjoy each of the evenings of entertainment with breathtaking scenery, fine food and an eclectic mixture of poems and melodies you'll be sure to remember for a lifetime at Altea's most unmissable evenings this summer.
Spaces are limited and in high demand so you will need to book your place in advance. 
Programme
Sunday, July 22 at 8.30pm
"Cuarteto de cuerda "A Piacere"
Ana Requena Marín, Miguel Ángel López Gómez, violins:
Miguel Falomir Goslin, viola
Yolanda Bueso Báidez, cello
Javier Gimeno Colomer, castañuelas
Concha Ballester Pons, guitar
J. S. Bach – W.A. Mozart – P. Mascagni – L. Boccherini
Sunday, July 29 at 8.30pm
Santiago Juan, violin
Vicent Ballester, guitar
M. Giuliani – N. Paganini – Astor Piazzolla – Jaques Ibert
Sunday, August 5 at 8.30pm
Bart Bakker, flute
Jacqueline Hehakaya, piano
Ludwig van Beethoven – Franz Peter Schubert – Bart Bakker
Sunday, August 12 at 8.30pm
Carlos Lopez Lagarza, bariton
Vicent Ballester, guitar
F. Sor – I. Albéniz – C Guastavino  – V. Bielsa – Ataualpa Yupanki
Sunday, August 19 at 8.30pm
Yoko Kumazawa, violin
Taro Kishimoto, flute and bouzouki
Virtuoso folkloristic music from Hungary, Romania etc.
Exhibition: Paintings by Antonio Ballesta
Poetry: Germain Droogenbroodt
There is a first come, first served service for all seating arrangements. 
Donation, including a generous variety of snacks and drinks 15€
ALL FIVE CONCERTS: 65€
Fundación Cultural ITHACA, Partida Monte Molar 78 (La Olla) – the small road in front of the pharmacy at the N-332 Altea-Calpe
More information available on 965 842 350 or mail: elpoeta@point-editions.com