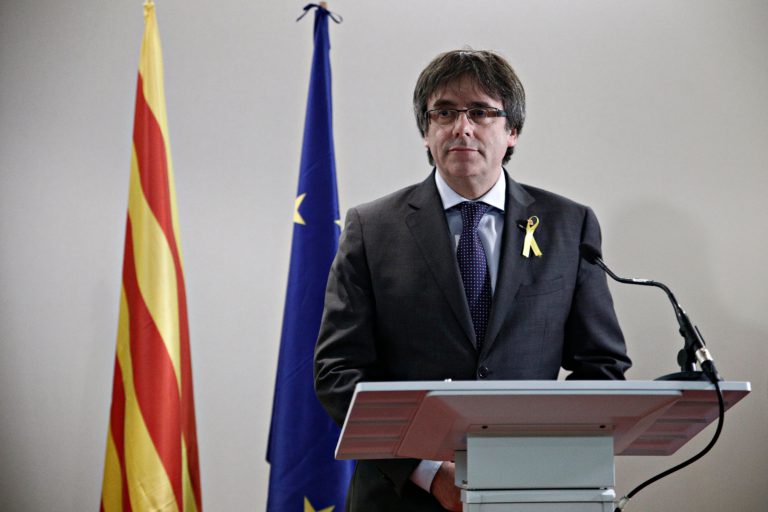 THE former Catalan President has said he plans to return to Belgium from Germany after Spanish authorities dropped a European Arrest Warrant for the pro-independence politician.
Carles Puigdemont continues to face charges of rebellion in Spain in connection with last year's independence referendum and declaration.
He has lodged an appeal with Spain's Constitutional Court in a bid to get the charges overturned, with justices saying they would study their cases.   
Puigdemont told a news conference he would continue his political activities in Belgium.
He planned to travel to the country this weekend, he added.
The news comes as the former President of Cataluña filed his appeal against charges of rebellion along with ex-advisors Jordi Turull and Josep Rull. Both Turll and Rull remain in custody after being remanded by courts investigating their part in the secessionist push.
The three politicians have argued in their submissions to the court that their rights to exercise public office were violated when the charges were issued.
The Constitutional Court previously ruled their holding of the Catalan independence referendum was illegal under Spanish law.
Justices reviewing the appeal said the case was one of "special constitutional importance" due to its potential political consequences.
Puigdemont first fled to the Belgian capital of Brussels after authorities issued an arrest warrant charging him in connection with the independence referendum last October and the later declaration.
Spain's Supreme Court issued a European Arrest Warrant after he fled and he was detained in Germany where he has remained since.
A German court ruled Puigdemont could not be extradited to Spain on rebellion charges but allowed his transfer back to the country to face charges of embezzlement.
Judge Pablo Llarena, of the Supreme Court, rejected the decision and dropped the European Arrest Warrant in light of the German court's decision on the rebellion charges.
Spanish authorities still have a regular warrant out for Puigdemont's arrest on both charges. Puigdemont could in theory remain aboard for 20 years, after which time rebellion charges expire.