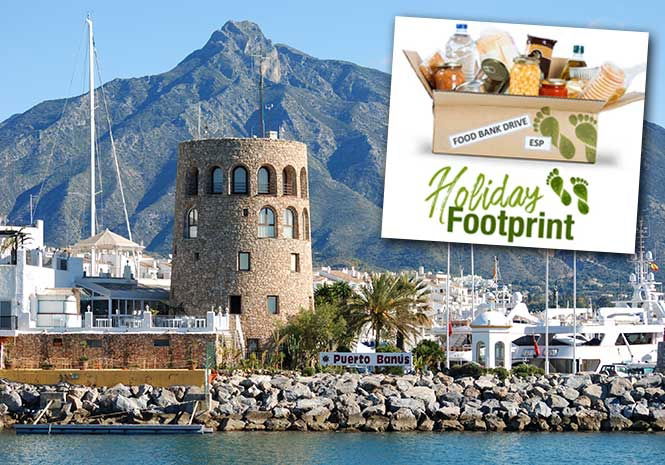 A MAJOR campaign has been launched in Spain this summer by a leading holiday rental company with their Holiday Footprint initiative which tackles food waste in the holiday rental industry while at the same time giving back to the community through food bank donations.
Most of us are pretty mindful about doing our part to look after the environment in our day-to-day lives, to some degree or other.
But when it comes to going on holiday, we struggle to keep up our good sustainable lifestyle practices unless the means to do so are readily available in our holiday destination.
This summer has seen several mindful travel ideas being shared on social media such as the one encouraging people to collect three pieces of rubbish every time they visit the beach, as well as a drive to encourage people to ask for a straw from the bartender, only if they need one, when sipping those cocktails in the sunshine.
One holiday rental company in Spain has come up with a solution to put the food and other leftover items at the end of your holiday to good use.
While the idea of donating leftover food and other goods to a food bank at the end of your holiday isn't new, the logistics of knowing where to donate and how to find the food bank to drop off donations has restricted a lot of holidaymakers from doing this until now.
This summer, Spain-Holiday.com is launching Holiday Footprint – a Food Bank Drive initiative – throughout Spain.
Holiday Footprint aims to tackle the issue of food waste in the holiday rental industry which, to date, is relatively unaddressed. Together with the collaboration of its guests, owners, and rental managers, it hopes to make a real impact by giving back to local communities where it is needed the most.
"The concept of our Holiday Footprint initiative evolved from an in-house idea as part of our pledge to give back to the community," explains Jannich Petersen, CEO of Spain-Holiday.com.
"Our experience is that guests are very thoughtful and absolutely willing to help if they can and we wanted to find a simple and effective way to get changeover day food donations from guests staying in holiday rental homes to the local food banks, where it is needed."
Holiday rental homes that are participating in the Food Bank Drive will have a poster displayed in the kitchen showing guests what items are accepted by the local food banks and how to take part.
Although most of the food leftover in the fridge isn't accepted by the food banks, a lot of what holidaymakers tend to leave behind is in high demand.
Surprisingly, it is items such as partially used personal hygiene products such as shower gels and shampoos, as well as baby products such as nappies or unused milk formula which are in low supply but high demand at the food banks.
With more than 16,000 holiday homes available throughout Spain on their website, Spain-Holiday.com reached out to their network of owners and rental managers with a plan to make a difference on a nationwide scale in Spain.
The response to the launch of the initiative has been overwhelmingly positive, with the majority of holiday rental owners thinking it is a great idea.
Within the first 24 hours of launching the Holiday Footprint Food Bank Drive, more than 28% of owners and agents had already agreed to take part in the initiative. Many commented that they have often been asked by guests about donating unused food over the years but had been challenged by the logistics of implementing the idea.
According to Petersen, "With the discord between local residents and holiday rentals in some tourist destinations in Spain, we wanted to show the big hearts of the Holiday Rental industry with something we all could get behind that gives back to the community and make a real difference."
"With over 16,000 properties available for holiday rentals, Spain-Holiday.com hopes to make a real impact in boosting the visibility and importance of local issues such as the need for food banks."
Through the initiative, each owner and rental manager determines how food is collected and which local food bank it is donated to. The Holiday Footprint initiative acts as the collective brand and mouthpiece to promote their efforts and provide education and awareness of the sustainable practices in the holiday rental industry.
While the Food Bank Drive has been initially launched with Spain-Holiday.com owners in Spain, any holiday rental brand, homeowner or guest that wishes to take part can download the free poster and get involved.