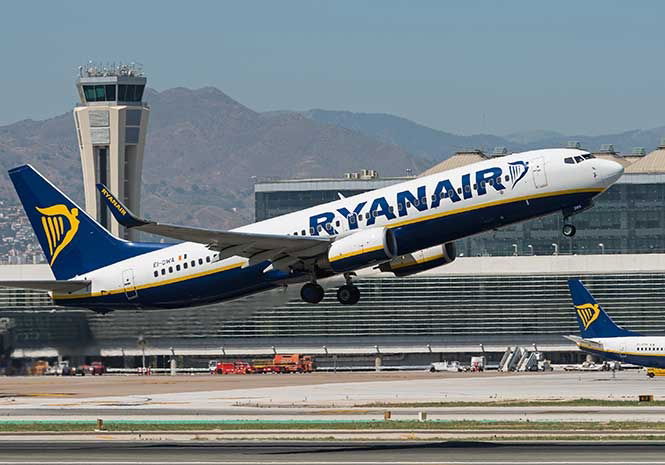 IRISH low-cost airline Ryanair has called on the EU and governments to take immediate action after 23 per cent of their flights were delayed by air traffic control shortages yesterday (Friday).
Today the situation has improved a little with German, French, Portugese and Greek ATC shortages delaying 79 (18%) of the airline's first wave of flight departures this morning.
The airline says it sincerely regrets the 'unjustified delays' and are doing their utmost to limit their impact on flights throughout the rest of the day.
In a statement they said, 'Customers on impacted flights have been notified by SMS text and email.'
Yesterday the budget airline said that air traffic control shortages in Germany, France, Spain, the UK and Greece delayed over 570 of their 2,445 flights.
In a tweet they said, "We sincerely regret these unjustified delays and call on the EU Commission and governments to take immediate action to eliminate ATC staff shortages disrupting millions of Europe's consumers this summers (sic).'
This coming week the company is to face further disruption as they have been forced to cancel up to 300 of 2,400 daily flights on Wednesday, July 25 and Thursday, July 26 to minimise disruption to customers from strike action by some of their cabin crew.
The airline has announced that up to 50,000 of their 430,000 customers (12%) will be disrupted on each of the days.
Ryanair confirmed that it has already issued email and text messages to the affected customers advising them that their flights have been cancelled seven days in advance due to a notified strike by some cabin crew in Belgium, Portugal and Spain.
They said all affected customers have been offered re-accommodation on alternative flights during the seven days prior to July 25 and 26 or the seven days after.
Ryanair said customers travelling to/from Belgium, Portugal or Spain who have not received an email or text SMS should expect that their flight will operate as scheduled and should check-in to their departure airport as normal.
Ryanair's Kenny Jacobs said: "Ryanair sincerely apologises to our customers for these disruptions which we have done our utmost to avoid. Given that Ryanair cabin crew enjoy great pay – up to €40,000 p.a. (in countries with high youth unemployment) – industry leading rosters (14 days off each month), great sales commissions, uniform allowances and sick pay, these strikes are entirely unjustified and will achieve nothing other than to disrupt family holidays, and benefit competitor airlines in Belgium, Portugal and Spain."
ATC Update – July 21st: pic.twitter.com/CpftOMj6DJ

— Ryanair (@Ryanair) July 21, 2018
ATC Update: pic.twitter.com/IrySIr56nr

— Ryanair (@Ryanair) July 21, 2018