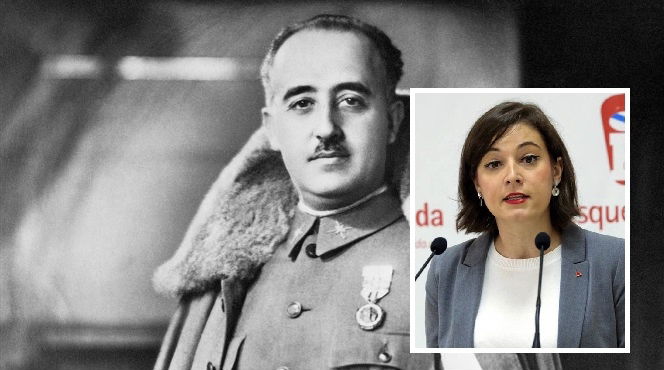 PROSECUTORS in Santiago have opened an investigation into the head of the Franco Foundation after a leftist party accused him of denying crimes against humanity committed during the dictator's rule.
Investigators in the Galician capital opened a probe after receiving a complaint from Esquerda Unida (EU).
They claimed Juan Chicharro Ortega's remarks on a television programme broke laws which deem certain remarks about Fascist-era Spain and its dictator illegal. Prosecutors have since passed on the case file to their colleagues in Madrid. 
"Franco did not shoot or order to shoot," Ortega said.
The EU, the Galician branch of the national Izquierda Unida (IU) party, said the remarks denied "crimes against humanity" committed under Franco's rule.
Eva Solla, the head of the EU and of the Galician Communist Party, said the opening of the case was good news.
"We understand that both the opening of proceedings by the Prosecutor's Office and the investigation are both positive developments."
"The EU hopes that justice will be done and that an investigation will be opened into the Foundation itself and they will be condemned," she said.
La Fiscalía de Compostela ve indicios de delito y remite a la de Madrid la denuncia que Esquerda Unida interpuso en 2017 contra la Fundación Francisco Franco https://t.co/xWr6LLVc3O @EsquerdaUnida @eva_solla @foromemoria @ARMH_Memoria @Ce_AQUA @lacomunapresxs @En_Marea

— Tercera Información (@tercerainfo3i) July 20, 2018
The Foundation and Ortega had not published any comment about the probe on social media or elsewhere online.

Ortega said in a previous statement shortly after becoming president of the group that his goal was to defend the dictator's historical legacy.
The Foundation also said in a statement that Franco had not committed genocide during his time in power.

"To accuse Francisco Franco of genocide, it would be necessary to prove that he tried to destroy a national or racial group."
"The accusations of genocide from the left lack intellectual rigour and is untenable in law," the group added.

The EU said the Foundation continued to "promote and exalt" the dictatorship in material it distributes with the aim of making an apology for it.
Eva Solla said: "Spain is the second country in the world with more people missing, second only to Cambodia."

"After 40 years since the transition to democracy we still have no justice, dignity and reparation for the victims of Franco's regime."
Several mass graves containing what some claim are the victims of Franco-sponsored purges and massacres have been unearthed this year, including in Cadiz and Mallorca.
Spain's Law of Historical Memory, passed in 2007, commits the government to officially recognise the victim's of Franco's regime and to condemn his time in power.