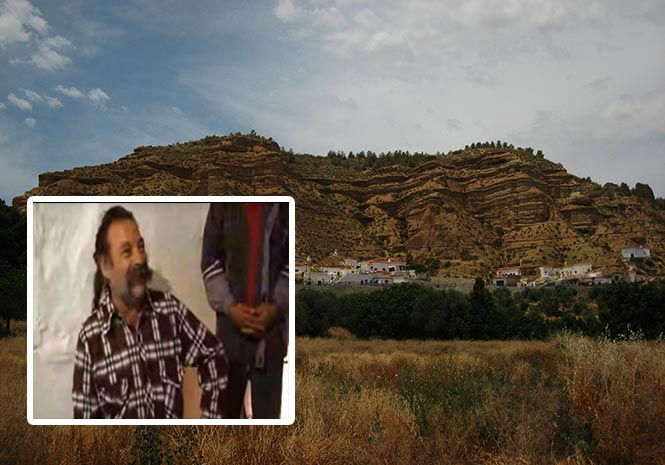 A MAN who lives in a cave with three women and 25 of the 36 children he has fathered has seen 13 of them taken into care by Spanish social services.
Police raided the home of 61-year-old Juan Manuel, known as 'El Canuto,' in Marchal, Granada, and took away 11 if his offspring before forcing him to hand over two others the next day.
All are aged between three and 15, with some taken to a care home and others placed with foster families amid accusations of physical, emotional and sexual abuse, violence between their father and mothers, and negligence.
It comes in the wake of a probe by a public prosecutor, which concluded that the girls were at the greatest risk.
According to a written report, El Canuto has six children with a woman named Piedad, 16 with María Dolores, and 14 with Soledad, of which two have already died.
The document explains that he "controls the rules of behaviour for all members of the family (including women, adults and children), based on a one-way authoritarian communication style, and a regime of behavioural and emotional tyranny and oppression."
It adds: "That disciplinary control is carried out via threats, humiliation and alleged physical abuse. There is also a clear difference in terms of gender, with discrimination against the women and girls."
Investigators say the Junta de Andalucia regional government may eventually assume custody of the children.
El Canuto became a minor celebrity after being portrayed as a colourful but harmless character on a TV documentary ten years ago, but the new enquiry claims his cave house has no running water and hardly any furniture.
He says he has never worked a day in his life and has a criminal record, although he has never been jailed.
Other townsfolk are allegedly scared to discuss him and even the mayor refused to comment in the wake of the swoop by 40 Guardia Civil officers wearing bullet proof vests and carrying submachine guns, accompanied by social workers who know the family.
He told Spanish media: "You have to understand our situation: journalists leave and we and our families have to stay here, and we have to be very careful because later things happen and they are irreversible."
El Canuto has denied he mistreats his family and told news agency EFE that his children have been "kidnapped" before insisting the children had not been living in substandard conditions and that the report is "libellous."
The probe was launched after two of the daughters last year ran away from home and told detectives they had been sexually abused.