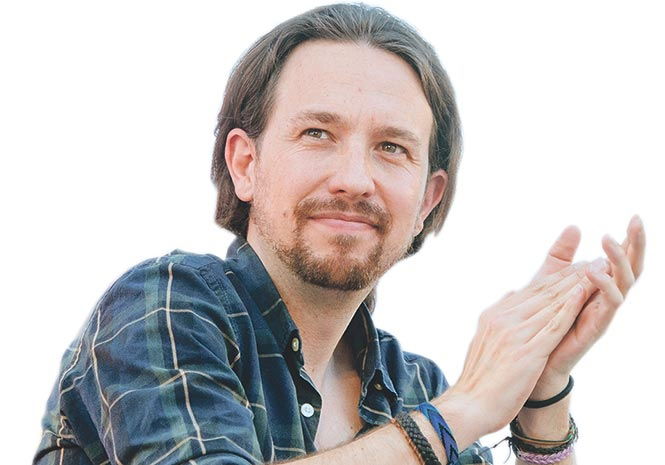 WHY shouldn't Pablo Iglesias buy a rather nice €600,000 house in a rather nice area like Galapagar?
Are he and his partner Irene Montero expected to live in a slum because Podemos sets out to represent the marginalised?  
As it happens they are: Podemos politicians are supposed to live in conditions and neighbourhoods that resemble those of their voters and donate 40 per cent of their pay to the party.
Iglesias and Montero comply with this obligation, but the Podemos supremo earns another €40,000 a year from television shows and royalties which immediately sets him apart from most of us. 
Pablo Iglesias, like Iñigo Errejon, comes from a very comfortable background, so the Galapagar villa is the sort of home you'd expect him to buy, or you would if he hadn't condemned Hacienda minister Luis de Guindos for spending €600,000 – there's a coincidence – on a penthouse flat.  
Or if he hadn't once told an interviewer that he couldn't understand people who live in villas.  
Still, the Communist nomenclature lived infinitely better than most of the USSR. Nicolas Maduro doesn't suffer the same privations as most Venezuelans and Jong Kim-Un doesn't live in the same misery as most North Koreans. 
Podemos might have been created for voters fed up with the political caste system but it didn't take long for its leaders to join it.
 Let's party
RICARDO GONZALEZ is a Pamplona High Court judge who was a member of the tribunal which decreed that the gang rape of an 18-year-old girl by five men known as the Manada (Herd) was sexual abuse, not aggression.
In fact Gonzalez was all for acquitting them, and lamented that he feels 'persecuted' by the public for his carefully-considered and conscientiously- deliberated opinion.
Gonzalez, it should be remembered, saw footage of the rape on the Manada's phones and pronounced that as far as he could see they were just having a good time and loads of fun. All of which raises the question of what sort of parties he goes to and what he regards as fun.
 Another one down
EDUARDO ZAPLANA was arrested for money laundering and bribery and held in custody while his home was searched. 
Mayor of Benidorm between 1991 and 1994, he was the president of the Valencian Community president until 2002 when Jose Maria Aznar made him Minister of Labour. After Mariano Rajoy lost the 2004 general election he was the Partido Popular's parliamentary spokesman before walking through the revolving door into a Telefonia sinecure in 2008.
Zaplana supposedly salted away commissions on irregularly-awarded Valencian Community contracts, so it's the same old story of another big name sucked down into the quicksands of corruption. Surprise surprise? No: the only surprise is that the story took so long to emerge.