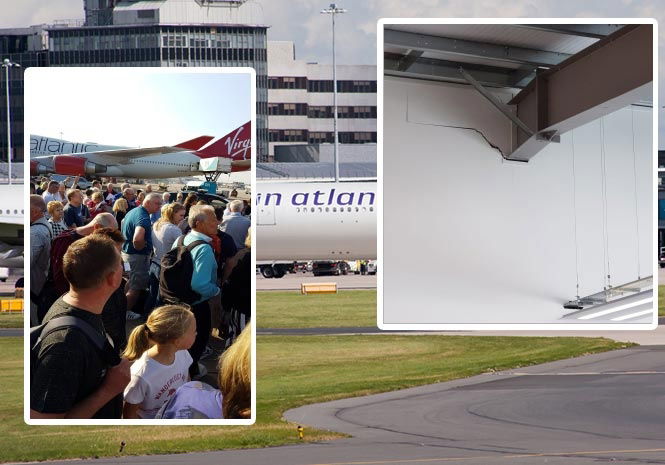 MANCHESTER AIRPORT passengers were forced off a plane after a gate was evacuated due to a crack in a wall.
The incident sparked 'mad panic' according to a passenger on the flight to Palma, Spain.
Pictures of cracks in the building have been posted on social media, with one user saying "the temporary floors sound like they are collapsing."
Another passenger said 'About an hour ago there was a loud noise. Everyone was panicking. It looks like something is wrong with the building, it is collapsing. 
"The fire brigade have evacuated the building. They didn't tell anybody what was going on.
"We are now stood outside on the airfield. The fire brigade made everybody move away from the building."
A spokesman for Manchester Airport has since said: "Our temporary gate lounge was evacuated and only one flights has been affected.
"It was evacuated due to a crack in the wall which is now being investigated and the passengers have all been taken back to the main terminal.
"All other flights are running as normal."
The spokesman added the temporary gate was built around six months ago but there are as of yet no details on how the damage happened yet.