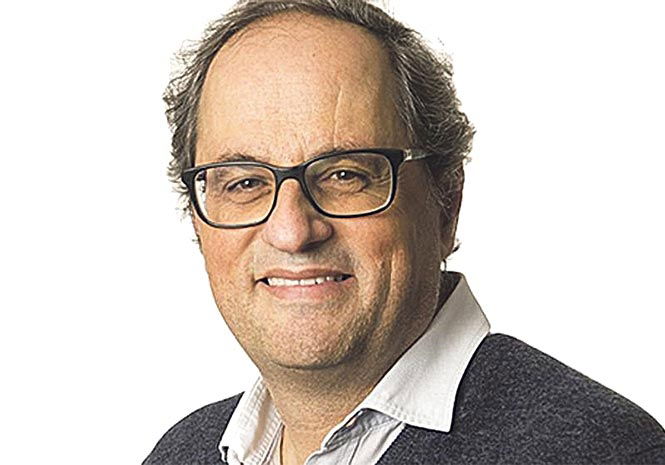 WHETHER or not Cataluña needs independence splits the region down the middle.
But, apart from secessionist politicians who forget that they were elected to run the region, Cataluña does need a government.
And to form a government it first needed a regional president and now five months after the inconclusive December elections, it's got one in the pudgily amorphous shape – he's no looker – of Quim Torra.  
It took five tries. A long-distance virtual reality investiture for no-show self-exiled former president Carles Puigdemont was reluctantly called off.  
Jordi Sanchez tried twice but was another no-show too as he was still remanded for rebellion and sedition.  
The secessionists fared no better with Jordi Turull who failed to get enough votes on the first round and was remanded, again for rebellion and sedition, before the second.
So Quim Torra, former president of Omnium Cultural, is what had to be scraped from the bottom of the barrel.
Virulently anti-Spanish, violently pro-independence and very much Puigdemont's man, he promised to 'construct a republic under Carles Puigdemont.'
And for the 50 per cent of Catalans who do not support independence, Torra makes Article 155 and no president the better option.
 Sticks and stones
CATALUÑA's latest regional president, stand-in for Carles Puigdemont who continues reigning from Brussels, Berlin or wherever he happens to be at any particular moment so long as it isn't Cataluña or Spain, has apologised for all the nasty things he once said about the Spanish.
These include tweets written some years ago and now deleted which claimed that Cataluña has been occupied by the Spanish since 1714 and that the Spanish, who know only how to plunder, are undemocratic, dirty, dishonest and rude.
Torra's apology was expedient but redundant. The fact that he intends to restore the breakaway laws passed last September and declare the republic as soon as Puigdemont gives him the nod is tacit confirmation that he meant every word of the insults.
 Puppet on a string
IT is no secret that Carles Puigdemont has handpicked Quim Torra to do his bidding and that the former president expects to call the shots.
Puigdemont has even asked Torra not to use his old office in Sant Jaume Palace, accentuating the temporary nature of the new president's position.   
At least that's how Puigdemont sees it, although he should cast his mind back to January 2016.
That was when CiU, still headed by Artur Mas, failed to obtain an overall majority in the early election called in September 2015. They needed the support of the anti-system CUP party which refused to play ball unless Mas, whom they regarded as unacceptable as well as corrupt, stepped down.
Mas reluctantly complied, naming Puigdemont, then mayor of Girona, as his successor. He assumed that Puigdemont would be easily influenced and that he could continue as president in all but name.
And we all know how that turned out, ending up with last year's October 27 UDI, a step that wily Mas would never have taken.
Better keep an eye on Torra, Puigdemont: history has a habit of repeating itself.