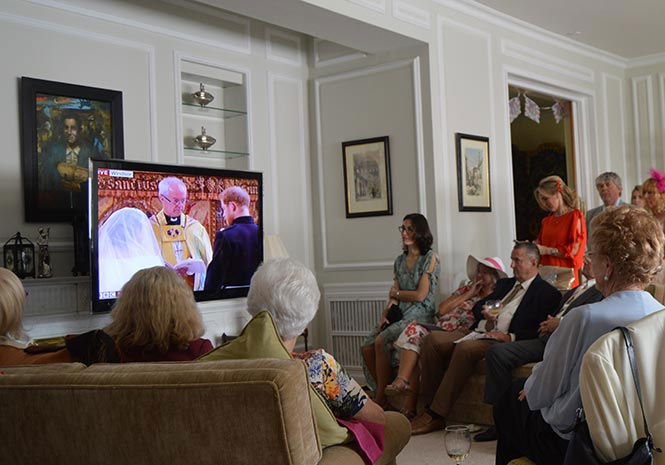 WHILST the EWN Media Group headed by Michel and Steven Euesden were hosting a party for expatriate residents of the Costa del Sol, long-serving staff writer John Smith who has recently taken over the role as editor of RTN Newspaper travelled to Madrid to attend the British Embassy Royal wedding party.
Accompanied by his wife Ophelia who has spent more than 30 years working in British media and was a former presenter on Gibraltar TV, they were delighted to meet so many old friends who had also travelled to Madrid.
With TV screens both inside and outside the Residency, the 200 plus guests were assured of an opportunity to watch the wedding as it was transmitted by the BBC.
The Ambassador Simon Manley was ever present making sure that he chatted with all of his guests and John was able to spend some time talking to him about the video recording sent to British communities around Spain which had been inspired by the EWN Media Group wedding party.
His daughter bravely sang the opening chorus of God Save the Queen to much applause and seen at the event were numerous visitors from Costa del Sol including Ali Meehan of Costa Women, Charmaine Arbouin, British Consul in Malaga and her charming daughter, a number of representatives of Talk Radio Europe and many others.
Left to Right Ophelia Smith with Elena Valdeon and Katy Reid of the British Embassy ©EWN Media Group
Guests at the reception were presented with a special certificate of appreciation for the work they undertake within the British community in Spain.
Wherever possible, British food and drink were served but the main interest was the delightful cake that was cut following the actual wedding.
Charmaine Arbouin, British Consul Malaga ©EWN Media Group
Ambassador Manley stopped for a photograph to be taken ©EWN Media Group