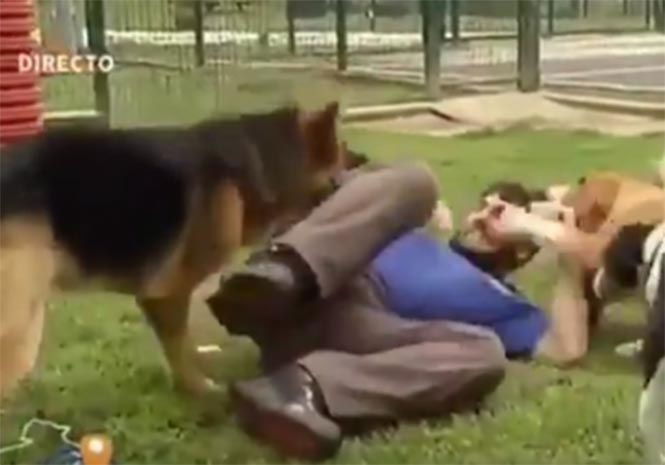 SHOCKING footage of an animal rescue centre worker kicking a dog in the face during a live interview in Spain has caused outrage.
The segment for the Viva Galicia programme, filmed in Oza Dos Rios in A Coruña, was supposed to show the caring side of staff at the shelter but whilst one of the workers was playing with several dogs, things took a wrong turn.
A playful German Shepherd can be seen approaching the man to join in the game and begins to nibble his foot.
The man then responds violently, kicking the dog twice in the face and the sliding along the ground attempting to hit the pooch again.
Before the camera pans around to the interview you can see the animal then latch on to his foot, now refusing to let go.
The director of the shelter Octavio Villaleza then separated the dog from the carer.
He later admitted that the worker did not think he did the right thing by kicking the German Shepherd, but said he was acting instinctively after being 'attacked'.
The man's boots had several holes in them after the incident and the dog was unharmed.
Galicia como puedas. pic.twitter.com/uhDIB4bXjF

— Grey de Dios (@PastordeLaGrey) May 16, 2018