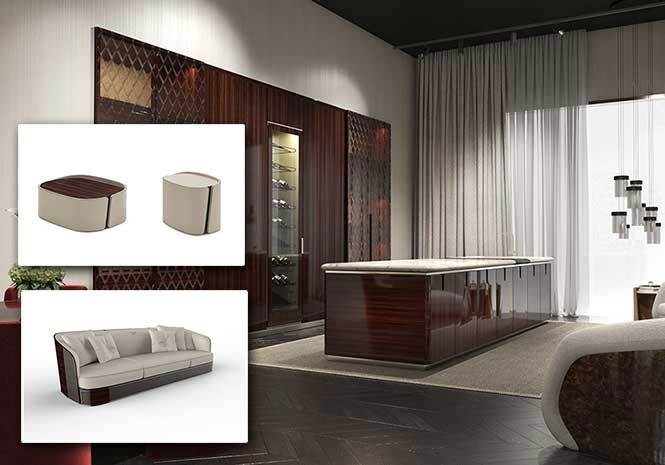 THE centre-piece of the Bentley Home collection presented at the Salon International del Mobile, Milan April 2018 was the kitchen.
An idealised expression of the focal point of modern family living.
Designed by architect Carlo Colombo the Bentley home draws together the materials and finishes of the luxury British car maker.
Elegance, combined with luxury and contemporary design are the hallmarks of the Bentley Home collection. A line of furniture and accessories embodies a superb representation of the Bentley car's design language further enhanced by Italian flair and manufacture.
The design of the collection focuses on proportion and shape rich in detail, with new patterns and sinuous geometries emphasised by metal details drawn from the interiors of the new Bentley Continental GT, as with the new Bampton sofa whose shape is highlighted by a metallic profile.
The Buxton kitchen is defined by linear design enhanced by the richness of the finish. A central island made of larch, houses the Calacatta Gold marble top flared at the corners and characterised by a perimeter groove.
The dynamic surface creates a movement effect while manual sliding panels create an elegant snack top and at the same time reveals a steel under top and hi-tech cooking module. The absence of handles in the doors and the recessed opening emphasises the sophistication and cleanliness of the shapes.
The Bentley design language and style is reflected in the materials, the new larch wood, with its warm shades and dark veins is modelled to embellish sofa and seat frames or combining it with leather in table and coffee table surfaces.
Upholstery fabrics of soft velvets in silk and cotton, high-performance chenille and Alcantara fabrics worked with a chevron motif in colour patterns of delicate and pastel shades. Stone grey and quartz grey tones combined with natural shades define a collection of a distinctive contemporary character.
Elements of the Bentley kitchen may be acquired selectively to enhance the ambience at the heart of your home.
A Bentley Home Matlock coffee table combines elements, two curved modules create the structure on which the tope made of new larch wood is fitted. The leather outer cover is framed by a metal profile which is the motif of the collection, at €5,300 (excluding local taxes), or the Bampton sofa a design inspired by the dashboard of Bentley cars at €19,030 (excluding local taxes).
• Nick Horne, Freelance Correspondent, London