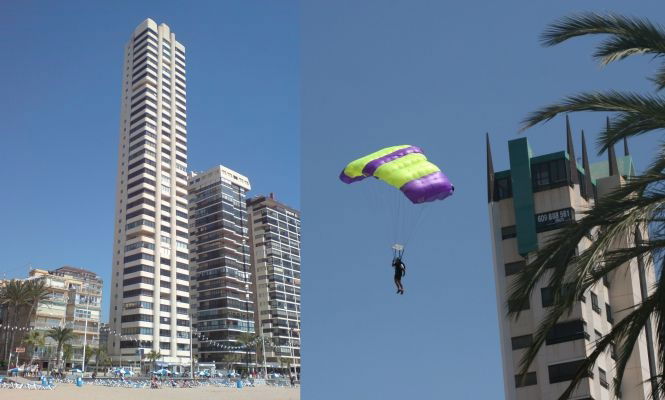 FOUR British expatriates face fines of up to €300,000 after being caught trying to leap from an iconic 33-floor seafront building on the Costa Blanca.
The unnamed thrill-seekers were reportedly surprised by police as they prepared to launch themselves off the 120-metre Torre Levante skyscraper in Benidorm with parachutes strapped to their backs.
Their arrests follow a brief probe after investigators were tipped off about a series of internet videos filmed by the BASE jumping quartet.
An official revealed that the daredevils are suspected of performing several illegal jumps in the area, before confirming that their parachutes, helmets and other equipment have been seized.
BASE jumping is the practice of parachuting from a fixed structure or cliff and is considered much more dangerous than sky diving from a plane due to the relatively low height of the jumps.
The abbreviation stands for building, antenna, span, and Earth (cliff), the four types of object from which fans of the extreme sport typically hurl themselves.