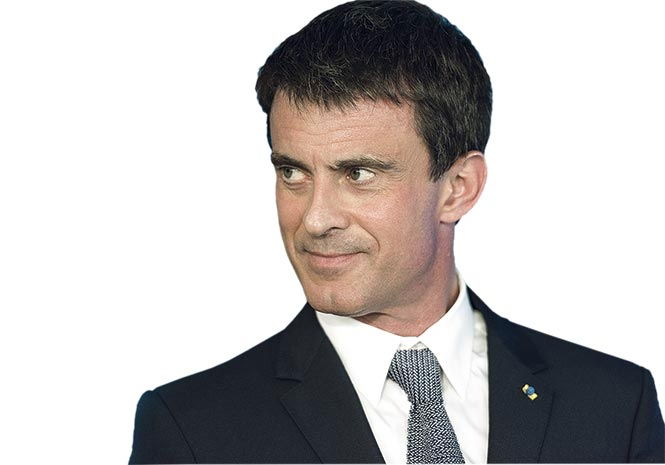 CIUDADANOS have invited a former French prime minister to be their candidate for Barcelona mayoral elections next May.  
The separatists, needless to say, can't see the funny side of it although Manuel Valls, prime minister between 2014 and 2016 has a Catalan father and was born in Barcelona.
Catalans were puffed with pride when Valls was elevated to the French heights but although he was referred to as Catalan inside the region, in the rest of Spain and outside it he was regarded as Spanish.
Now the separatists have changed their tune and, because Valls is opposed to independence and took part in a pro-unity rally in March, they are complaining that a 'Frenchified' Spaniard shouldn't and couldn't be mayor of Barcelona.  
Selective patriotism, in other words. 
No numbers to crunch
CRISTOBAL MONTORO, Spain's minister of finance and Hacienda's taxman, found no evidence that public money was used to organise Cataluña's unauthorised October 1 independence referendum. 
The separatist parties insist that the money for the referendum, including the cheapo Chino ballot boxes, came from small donations from pro-independence supporters.
Supreme Court judge Pablo Llarena, thinks otherwise and is not prepared to take yes for an answer while Guardia Civil investigators are convinced that the ERC-PDeCat coalition then in power hived off around €1.9 million.
Madrid was supervising Cataluña's account books long before then and took over the regional government's outgoings in September last year, so if Montoro can't find the misappropriated funds then they're not there.
He has been getting blood out of a stone since the Partido Popular took over in 2011, and this is the minister who with admirable honesty once said that he didn't go into politics to make people happy. Or, presumably, judges and governments.
 A question of judgement
XAVIER DOMENECH is the leader of the Cataluña en Comun-Podemos tandem and has to tread a careful path through a minefield of pro-independence ambivalence. In other words keeping Catalan voters happy while not alienating Podemos voters outside the region. 
He recently told an interviewer that plunging Cataluña into more elections would not help the pro-independence cause and also said neither should the ERC and PDeCat wait to see what happens with former regional president Carles Puigdemont, now bailed in Germany while the courts decide whether or not to extradite him.
Recovering Cataluña's autonomy and putting an end to judicialisation of regional politics should not depend on a German judge, he said.  Or a Spanish one.
Interesting that judicialisation is now an everyday word needing no explanation in Spain. But that, of course, is because it only happens in Spain where, it should be mentioned in passing, it does not get results.
 Given the putsch
IT had to happen sooner or later, given the tensions inside the Podemos party. Sidelined founder member Carolina Bescansa suggested to equally sidelined Iñigo Errejon that they should give party supremo Pablo Iglesias the push. Or preferably the putsch. 
Errejon, who needs to box clever if he is to remain the party's candidate for the Madrid Community presidency, reacted with demonstrable horror and described the proposal as insane.  But only because he is clever enough to know that there was little chance of success. Yet.  
An ill wind
POST-BREXIT, the EU's operational HQ in Northwood will move to Spain's Rota naval base.
Relocating will involve a €1.5 million investment and half of the 95 staff members will be Spanish.
Comforting to know that Brexit will at least bring benefits to some.