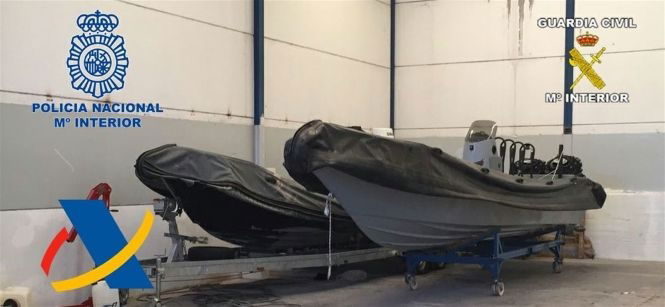 A JOINT sting by Spanish National Police, Guardia Civil and Tax Agency has seen a giant 3.7 tonne hashish haul worth €17.7 million seized in southern Spain.
Fourteen people have been held during raids in the Andalucian provinces of Cadiz, Malaga, and Huelva, plus the North African Spanish enclave Ceuta, while three modified speed boats equipped with high-powered engines, a yacht, a fishing boat, nine cars, guns and more than €100,000 in cash were seized.
It comes in the wake of an 18-month probe, sparked when drug enforcement investigators were alerted to a suspicious semi-rigid boat which docked repeatedly in Bajadilla Marina, Marbella.
And it soon became clear that the vessel was being used by a drug trafficking gang based in the Campo de Gibraltar area of Cadiz.
The first two arrests were made when a boat sailing from El Terron in Huelva to Morocco was in February intercepted with 1.5 tonnes of hashish aboard.
A month later a second craft was tracked as it travelled from Cadiz to Morocco, with four additional gang members jailed.
And intelligence gained from these swoops allowed detectives to identify the ringleaders, leading to the latest round of eight arrests.