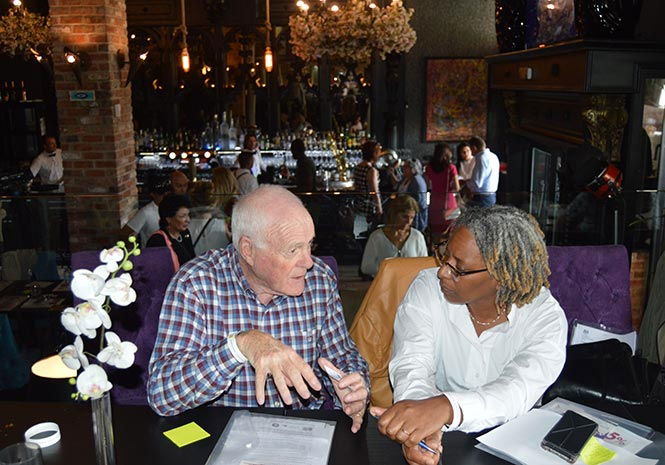 THE Third United Nationalities of Marbella Summit organised by TV and Radio presenter Nicole King was held at Velvet Marbella yesterday (Tuesday).
There was a good turn-out of different expatriates resident or working in the city and its environs and apart from a problem with drilling at the adjacent Indian restaurant which was not stopped for some time, it was a very successful event.
The concept of the entire presentation was to see what people from the 137 different nationalities who live in the 27 kilometre stretch that is Marbella can do to help each other to make the area a better place.
There have been two major successes since last year's Summit and these have been achieved thanks to the hard work of Nicole and her determination to see safer roads and better opportunities for youngsters.
First is the ZeroHero campaign which is backed by the Road Traffic Safety Foundation Linea Directa whereby various bars and restaurants around the city will not charge 'designated drivers' for soft drinks provided that it is clear that they have taken no alcohol and some of the most prestigious establishments in the area have already indicated that they will join the initiative.
Linea Directa will be providing personal breathalyser kits which can be used not only whilst customers are about to go to their cars but can help them check their alcohol level the following day when so many people don't realise that they may be breaking the Spanish limit.
As support for this initiative, Euro Weekly News will regularly report details of those bars and restaurants who are participating in the scheme so that readers can make an informed choice as to where to visit.
On the same lines, there is a general feeling that there is simply not enough entertainment for young expatriates who could be tempted to spend time together, drinking and possibly being lured into taking drugs.
Again a number of eateries and even nightclubs have indicated that they may be prepared to allow youngsters into their premises for special alcohol free themed events with discounted prices off season.
Both of these schemes were welcomed by those attending and an appeal has gone out for as many bar and restaurant owners as possible to join in both initiatives and if interested, should contact Nicole through the web site www.marbellanow.com.
A number of different charities were invited to give details of their services in the local area and these included the recently formed Age Concern Marbella, Concordia Aids Charity, Debra Butterfly Children, Malaga Orphanage and Triple A Animal Charity.
Charmaine Arbouin the British Consul in Malaga made her first visit to a UNM Summit and together with journalist and web developer Neil Hesketh explained about the recently constructed Support in Spain website which is aimed at expatriates and their Spanish neighbours who need help and advice of all types.
Also attending was the head of the Foreigners Department of Marbella Council Oti G Diaz-Ambrona who announced that there would be a special opening of a 200 square metre new office in the Exhibition centre at 6pm on Thursday May 17.