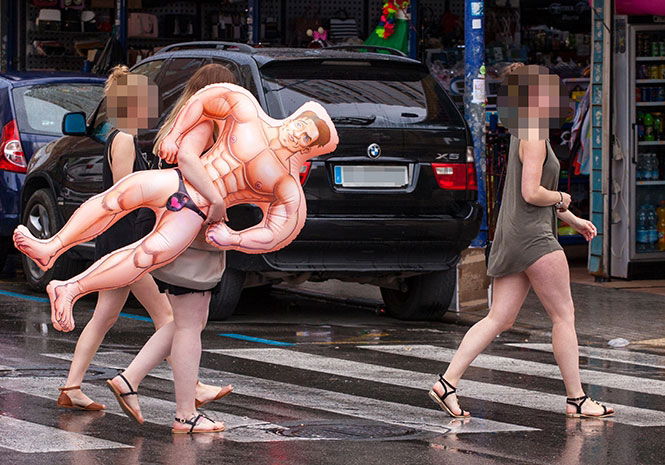 BRITISH stag and hen parties are to be fined up to €750 for roaming the streets of Marbella drunk, semi-naked or wielding inflatable sex toys.
The council last year vowed to launch a crackdown on raucous behaviour amid fears that the upmarket city's image was being ruined.
And new laws banning disorderly behaviour, nudity and semi-nudity, and swimwear on the holiday hotspot's streets are set to be in place before the summer season.
According to official documents seen by the Euro Weekly News, it will be illegal to be seen in public "naked, semi-naked, with a naked torso, in underwear, with clothes or accessories that represent the genitals or other intimate body parts, or with dolls, devices, symbols or elements of a sexual nature."
Bikinis and other swimwear will also be outlawed "except in swimming pools and on the beach."
The ban will also include glitzy Puerto Banus after a string of videos showing tourists, including many Britons, staggering through the port last year appeared on social media.
Police will reportedly issue an initial warning to offenders, with those who argue or ignore them slapped with fines.
The decree will also see anyone harassing children, the elderly or disabled face penalties of up to €3,000, while individuals charged with 'discriminatory behaviour,' including racist, sexist or homophobic insults, will be forced to pay up to €1,500.
Public thoroughfare councillor Jose Eduardo Diaz said he hopes the new regulations will be approved by the end of June.