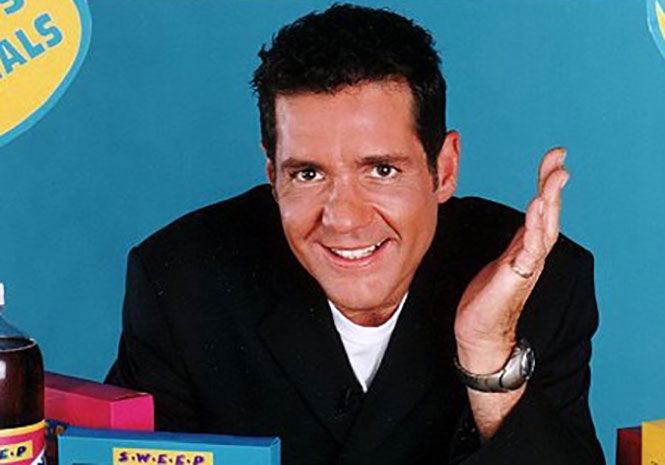 POPULAR British entertainer, Dale Winton, best know for presenting Supermarket Sweep  on TV has died aged 62.
Last night (Wednesday) his long-term agent Jan Kennedy said in a statement, "It is with great sadness that we can confirm the passing of Dale Winton who died at home earlier today.
"While we know many will share this terrible loss, we ask that you respect the family's privacy at this time of grief."
The cause of death was not disclosed.
Dale Jonathan Winton  was born on May 22, 1955 and was best known for presenting shows including Dale's Supermarket Sweepfrom 1993 until 2000 and again in 2007, the National Lottery game show In It to Win It between 2002 and 2016 and the 2008 series of Hole in the Wall.
Winton's father died on the day of his bar mitzvah and Winton was brought up by his mother. She committed suicide in 1976 by taking an overdose and was found dead by her son with a "do not disturb" sign outside her bedroom door.
In 2000, Winton took over from Alan Freeman to present Pick of the Pops on BBC Radio 2,[15] and hosted the show until 30 October 2010, when Tony Blackburn replaced him.
A host of celebrities lined up to pay tributes on social media including Danny Baker who tweeted, "Dear me. Goodnight Dale. An unassuming gentle man, lively company, a pleasure to write for. I will henceforth always salute your regular spot outside Pat Val's Marylebone High Street. God Bless."
Davina McCall posted, "I am so so so sad to hear about Dale Winton  a lovely, warm, kind, sensitive, generous soul with a touch of naughty! RIP"  
And Paddy McGuinness‏ added, "Sad news. Back in the day Supermarket Sweep was the programme to watch. Dale Winton was the perfect host, he made it all look effortless. RIP"
Sad news. Back in the day Supermarket Sweep was the programme to watch. Dale Winton was the perfect host, he made it all look effortless. RIP pic.twitter.com/RW5r3qDs9N

— Paddy McGuinness (@PaddyMcGuinness) April 18, 2018
Dear me. Goodnight Dale. An unassuming gentle man, lively company, a pleasure to write for. I will henceforth always salute your regular spot outside Pat Val's Marylebone High Street. God Bless.

— Danny Baker (@prodnose) April 18, 2018
I am so so so sad to hear about Dale Winton ? a lovely, warm, kind, sensitive, generous soul with a touch of naughty ! RIP ??

— Davina McCall (@ThisisDavina) April 18, 2018