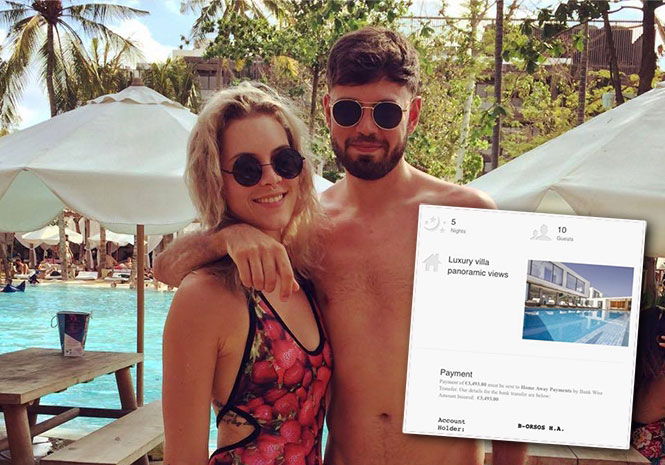 A BRITISH bride-to-be who paid more than €3,400 to book a non-existent honeymoon villa in Ibiza has exposed the plot online.
Expatriate hairdresser Daizie Kerr, 27, who now lives in Australia after emigrating from Retford in Nottinghamshire booked the property via United States-based holiday rentals website HomeAway.
And she revealed how she had been scammed in a lengthy Facebook post.
Due to wed fiancee and welder Thomas Myers, 27, in September, Ms. Kerr wrote that when she tried to reserve the luxury property, a person posing as the owner told her she was eligible for an early booking discount if she paid direct.
But the messages dried up after she sent the money via bank transfer, before the website notified her that the property could be fake.
"I know that people aren't always as stupid as I have been but I just wanted to remind people to always be cautious," she wrote.
"I recently went on HomeAway to search for a villa to stay at in Ibiza after our wedding. I inquired about a place and received a message from the owner, saying because I was booking so far in advance he could give us a discount and asked me to email his private email to sort his calendar. 
I then emailed him asking about the discount and minutes later I received a reservation request from what I believed to be HomeAway.
"The email looked legitimate and my app said the same as my other emails from this website at the head of the email. It gave me a bank account to transfer the balance to in order to complete the booking request.
"The payment was sent and happy days we had a fabulous villa booked for our honeymoon with our friends!I kept in contact with the owner who was very helpful and communicated well. 
"Once the payment had left the bank two days later I emailed to see if he'd received the payment and he no longer replied.
"The next day I received an email from HomeAway saying they believed a listing to be fake and that if we had made any bookings to get in touch.
"I called them straight away and they said it states somewhere on their website that no payments should be made outside their website however my fake email looked like their website so I didn't think anything of it.
"So please be aware of the big websites having fake listings, never personally email anyone and NEVER EVER BANK TRANSFER MONEY ONLINE, even if the place is amazing and only offers bank transfer, choose somewhere else.
"We now have to try and replace that money to pay for our wedding because I was stupid."
HomeAway confirmed that to avoid problems all payments should be made via its website.