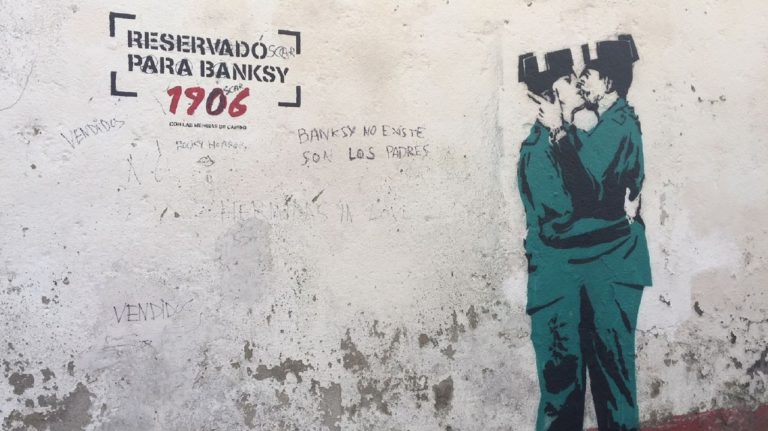 GRAFFITI showing two Guardia Civil officers kissing in a town in northern Spain may be the first work of art by British artist Banksy in Spain.
The mural was found by residents in the Galician town of Ferrol de Coruña on Tuesday morning.
The graffiti, on Calle Muiño do Vento, is accompanied by writing in Spanish which reads: "Reserved for Banksy".
The text was painted on the wall last year in what was reportedly a bid to tempt the street artist to come to the town.
Eduardo Hermida, a promoter from the town's Meninas de Canido street festival, was one of those who backed trying to draw Banksy to the town. He told Spanish media the authenticity of the work could not be confirmed.
"We do not know if the work which has appeared in the reserved space is original or not," he said.
He added he had sent the co-ordinates of the location to Banksy in an email two or three months ago.
"If it is an imitator, it will be the work of a stranger inspired by the technique of the great one," he said.
Locals and other Spanish people took to Twitter to react to the appearance of the mural.
The Guardia Civil tweeted: "Well, it would be nice to be the protagonist of the first in Spain, don't you think?" 
Pues estaría bien ser los protagonistas del primer #Banksy en España ??, ¿no crees?https://t.co/bicLNWAsd2 pic.twitter.com/J9i6X4opJV

— Guardia Civil (@guardiacivil) April 18, 2018
Banksy typically posts pictures of his latest work on his Instagram page the day after they are painted. There is no post of the Ferrol de Coruña mural there as of yet.