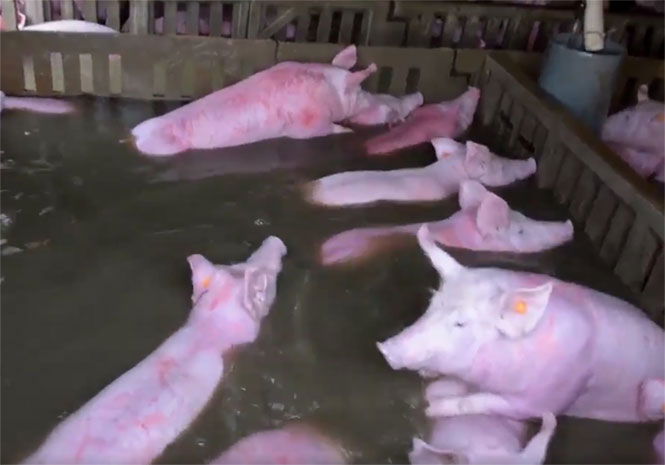 AT LEAST one thousand pigs have drowned in their pens at a farm in Spain after a river burst its banks and, despite prior warnings, the owners had decided not to evacuate them.
Heart-breaking video of the animals up their necks in flood water, squealing and struggling to stay afloat was filmed by animal rights campaigners.
The farm was flooded after the River Ebro river burst its banks.
It is claimed that officials from the regional government in Aragon  had warned the farm ownersin Villafranca de Ebro about the high risk of flooding – but they decided not to evacuate their animals.
A government spokesperson said that 43 farms had been contacted before the floods and that 46,895 animals had been evacuated 'without problems'.
Guardia Civil officers from the SEPRONA environmental branch tried to save the pigs but the water level was reportedly too high for them to successfully complete the operation.
Animal rights political party PACMA have now filed complaints against the farm owners for mistreatment of the animals.
They said, "If they had started evacuating the pigs on time, they would have saved them."
PACMA said they had warned the regional government of Aragon on Friday that the situation of 2015, where more than 10,000 animals died at the same two farms, could be repeated.
In a statement they said, "We have filed a legal complaint for possible animal abuse, against the owners and/or those responsible for the animals that were abandoned and drowned at the Remolinos and Villafranca de Ebro farms, both in Zaragoza.
"They are the same farms that left their animals to die during the floods in 2015."
"But they are not the only ones responsible. In November we presented to the Aragon Council our Animal Catastrophe Evacuation Plan.
"If they had listened to us none of this would have happened.
"In addition, on Friday we warned the Government of Aragon that there was a forecast of floods, and that it was essential that a protocol be activated to evict the animals and guarantee their safeguarding."
Police are investigating the case but no charges have yet been forthcoming.