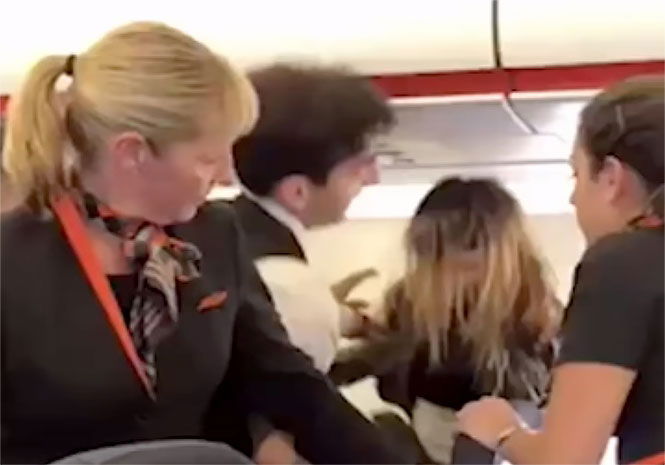 THIS is the shocking moment that cabin crew were forced to step in after three women believed to be erotic dancers downed vodka before sparking a punch-up on an easyJet flight from London Gatwick  to Tenerife.
One was left with a bloodied face after the scrap during which they 'tore each other's hair out.'
Horrified passengers later revealed that the trio were drinking a bottle of vodka before the brawl.
The booze was confiscated by attendants after holidaymakers complained about the womens' drunken swearing on the flight from Gatwick.
Angie Dilloway, 50, was on the flight with daughter Bella, 10, who can be heard screaming in the footage.
She told UK media: "No one expected it to happen. They were friends and cuddling one minute and then getting louder and drinking vodka the next.
"They started arguing and they were swearing using the 'f' word and the 'c' word. Other passengers started to complain and the stewardess took the bottle of vodka away from them.
"Then a brunette lunged at a blonde, screaming. She was ripping her hair out. We feared someone would get badly hurt."
The airline said in a statement: "easyJet can confirm that flight EZY8709 from London Gatwick to Tenerife South on 13 April was met by police on arrival in Tenerife South due to passengers on board behaving in a disruptive manner. The passengers were escorted away by police."
It comes a week after the UK government announced it is considering a crackdown on inflight boozing, with tougher sanctions for drunk passengers and selling duty-free alcohol in sealed bags among the proposals.