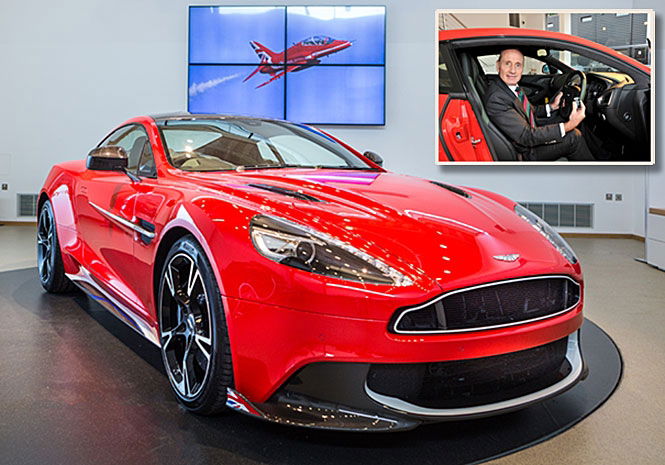 THE Royal Air Force, the first independent Air Force in the world, is celebrating a century of service in 2018.
Last year, inspired by and in anticipation, Aston Martin the luxury sports car manufacturer commissioned a unique series of sports cars to mark that service, a limited edition of ten sports cars, the Vanquish S Red Arrows edition. 
The Vanquish S Red Arrows is the result of collaboration between the Royal Air Force and Aston Martin Cambridge with approval from Ministry of Defence, resulting in one of the most exclusive Aston Martins ever built.
Just ten of the Red Arrows inspired cars were constructed each with special design features, handcrafted interiors and graphic elements drawn from the language of aviation as well as the skill and agility of the RAF's acclaimed official aerobatic team, the Red Arrows.
Why ten cars when the Red Arrows perform in a diamond formation of nine Hawk jets? Because the tenth was gifted to the RAF Benevolent Fund.
The car Aston Martin Red10 was raffled in support of the RAF Benevolent Fund, more than 70,000 tickets were sold, raising more than £1.5million.
The winner of the raffle and lucky owner of the Aston Martin Red10 supercar Humphry Bradley said: "I was totally shocked to win such an incredible prize – absolutely gobsmacked. I am honoured to have supported a service charity and the RAF Benevolent Fund undertakes some truly incredible work supporting the RAF family. As an ex-serviceman myself I know how important the work of charities like the Fund is." 
The Vanquish Special Edition is finished in striking Eclat Red, mirroring the livery of the Hawk jets and referencing the word 'Eclat' the Red Arrows' motto.
Subtle details enhance the bodywork and interior of white and blue carbon detailing to the white smoke trail feature on the side strake. Exposed carbon fibre roof panel includes a 'charge pattern' imitating the design of a fast jet with Union Jack enamel wing badges and a titanium exhaust complete the exterior design.
Inside Red Arrows and RAF inspired details abound, Pinewood green inserts evoke the classic flight suit and Martin Baker ejection seat fabric together with the green webbing seatbelts. The signature Red Arrows emblem of nine aircraft in a classic diamond formation is embroidered on the seat backs, together with unique sill and engine inspection plaques. Each car is signed by the equivalent Red Arrows pilot 1 through to 10.
The cabin is finished in a 2+0 configuration allowing for rear mounted stowage of twin racing helmets, both finished in the Red Arrows livery. Each Vanquish S Red Arrows owner also receives bespoke accessories including racing helmets, racing suits, embroidered bomber jackets and bespoke luggage.  
Editions 1 to 9 are available for £275,000, on the road.
• Nick Horne, Freelance Correspondent, London