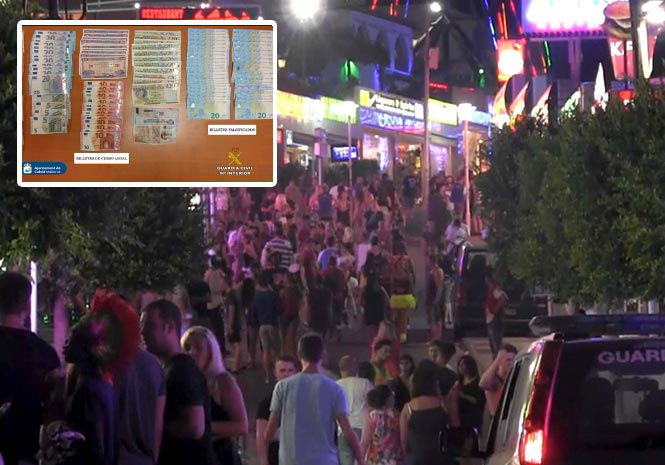 FOUR British revellers on a stag-do in Mallorca have been held on suspicion of using counterfeit money to party for free.
The unnamed quartet, aged between 30 and 50, had been staying in Magaluf, where they were allegedly spending the false €20 and €50 bank notes on booze-ups in bars and nightclubs before accepting change in legal tender.
They were sporting specially designed t-shirts emblazoned with 'Marty, the game is over my friend,' featuring a black silhouette of a man on all fours wearing a dog collar held by a woman.
Local Police launched a probe after business owners on the riotous Punta Ballena strip reported that the bogus cash was appearing in their tills.
The investigation led to the arrest of one of the suspects, who was carrying five forged €20 notes plus small amounts of cocaine and cannabis as he drank in a bar.
But when they took him to his holiday flat in the Torrenova neighbourhood to check his passport, officers found more counterfeit money in the property's safe, leading to three others being held after Guardia Civil investigators were called in.
Investigators requested a search warrant for the apartments, seizing €800-worth of forged cash, plus €3,000 and around £1,000 in legal notes.
All four men had been on the island 'for a short time,' police said in a statement.
The arrests came after three people were charged with smuggling false bank notes from Italy into mainland Spain.
Two of the suspects were held in Alicante and the third in Barcelona, with one surprised as he left a post office clutching a package containing €4,600 in counterfeit cash.
The notes were reportedly brought from Naples to Spain by an Italian citizen, or mailed by his son.
A fourth individual who is serving time in a Tarragona prison has appeared in court for allegedly heading the plot from his cell, detectives confirmed.
A total of €5,050 of fake bank notes and €4,535 in legal tender were seized during the sting.