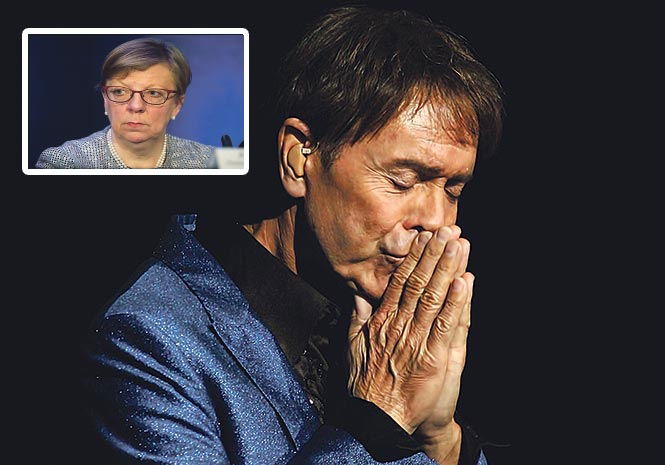 RARELY has news that a public official, the ideologically-driven Director of Public Prosecutions for the Crown Prosecution Service (CPS), Alison Saunders, is leaving their post been greeted with such glee. 
One of her worst moments was when her decision not to charge the Labour peer Lord Janner with alleged child sex crimes was overturned after the complainants demanded a review of the CPS' assessment.
She was also heavily criticised after most of the journalists charged as part of Operation Elveden, the investigation into allegations involving reporters bribing police officers and other public officials, were acquitted. 
And recently, after the collapse of several rape trials following the failure of the prosecution to disclose evidence led to the CPS announcing a review of all current rape cases, she found herself faced with yet another crisis.
Again, during her rocky reign, the CPS wasted considerable police time and court resources in prosecuting cases dating back decades (Cliff Richard, for instance) where the evidence was tenuous at best.
While there's no doubt these matters should be investigated and the guilty brought to justice – like Max Clifford, Rolf Harris, Gary Glitter – several investigations were botched at taxpayers' expense. The cases of Lords Brittan, Bramall and McAlpine clearly show mistakes of identity or false allegations aren't impossible and that justice and fair procedures should apply to the living (as well as the dead).
So, another nail in the failing reputation of the UK's justice system and also public trust in the police? The suspicion is that the police are yet another British institution that's become removed from the concerns of the vast majority of people who pay for it. Too easily influenced by fashionable political issues; fairly useless at doing what people really want it to do (stop crime); and eager for the spotlight in pursuing celebrities over allegations dating back to the 1970's.  
Such was the never-ending roll call from the 70's, it reached the point when you expected Captain Pugwash, the Blue Peter tortoise and Zippy from Rainbow to be hauled in next for questioning …
To the ridiculous without going through the sublime… 
Nora Johnson's psychological crime thrillers 'The Girl in the Red Dress,' 'No Way Back,' 'Landscape of Lies,' 'Retribution,' 'Soul Stealer,' 'The De Clerambault Code' (www.nora-johnson.net) available from Amazon in paperback/eBook (€0.99;£0.99) and iBook store. All profits to Costa del Sol 
Cudeca cancer charity.