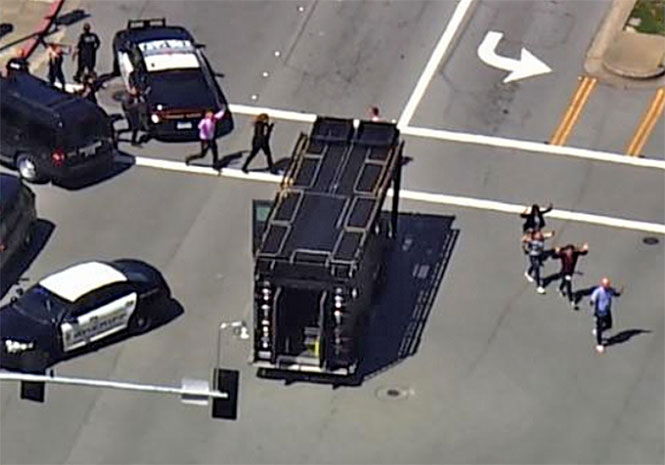 EMPLOYEES are being evacuated from the YouTube headquarters in California in the USA after reports of an 'active shooter'.
Armed police have surrounded the building and San Bruno Police Department has urged people to "stay out of the area".
A YouTube worker has posted on Twitter: "I got evacuated outside with my hands up. I'm with other people. I don't think the shooter's been found that I know of. I saw blood drops on the stairs I walk up everyday. I'm shaking. This is surreal. I hope my colleagues are okay."
According to several local media reports, an armed individual – possibly a white woman – has opened fire at the offices.
Update: 
Nasim Aghdam has been named as the shooter who targeted the firm's complex in San Bruno, California, on Tuesday.
The 39-year-old, who had accused YouTube of discrimination and blocking her work, was later found dead inside the building after apparently turning a handgun on herself.
We have advised those who are currently at the SBO office to continue to shelter in place until further notice.

— Google Communications (@Google_Comms) April 3, 2018



We continue to actively coordinate with local authorities and hospitals. Our Security team has been working closely with authorities to evacuate the buildings and ensure the safety of employees in the area.

— Google Communications (@Google_Comms) April 3, 2018
The ATF San Francisco Field Division is responding to a reported shooting at YouTube headquarters in San Bruno, Calif. pic.twitter.com/l7XabZ5FpI

— ATF HQ (@ATFHQ) April 3, 2018
Active shooter at YouTube HQ. Heard shots and saw people running while at my desk. Now barricaded inside a room with coworkers.

— Vadim Lavrusik (@Lavrusik) April 3, 2018
Snap Maps footage coming out of the YouTube HQ shooting. Crazy. Stay safe, tech. pic.twitter.com/v8F7ycotxw

— Daniel Sinclair ? (@_DanielSinclair) April 3, 2018
Re: YouTube situation, we are coordinating with authorities and will provide official information here from Google and YouTube as it becomes available.

— Google Communications (@Google_Comms) April 3, 2018