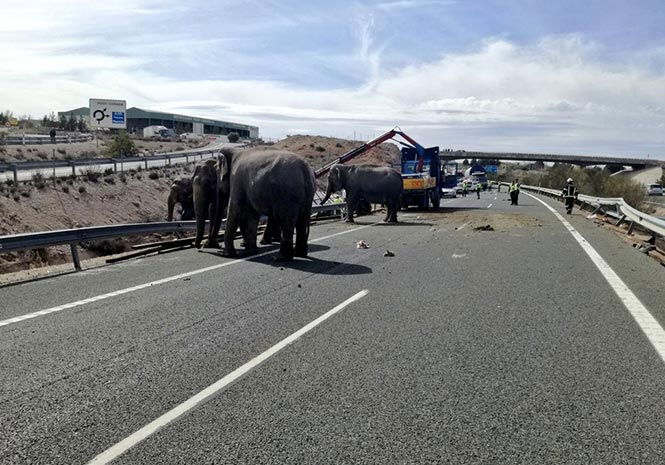 A LORRY transporting elephants has overturned on a motorway in Spain, with the animals now roaming the road.
The A-30 in Pozo Cañada, Albacete has been closed off whilst authorities deal with the situation.
There have been no reported injuries, however in the footage one of the elephants can be seen struggling to get up.
Traffic has been diverted to the N301.
UPDATE: One elephant dies and two injured after lorry overturns on road in Spain
ÚLTIMA HORA ???
Accidente de tráfico en la autovía A30 cortada en Pozo Cañada, desvío por la N301
Se aconseja no desplazarse al lugar del accidente, ya que se ha desviado el tráfico por la N301 a su paso por la localidad pic.twitter.com/flIY3C6dca




— Ayto Pozo Cañada (@Ayto_PozoCanada) 2 April 2018
A-30 cortada por caída de camión con elefantes sueltos en la calzada. Cortada autovía dirección Murcia a la altura de pozo Cañada. pic.twitter.com/z0tPg6KDZo

— PolicíaLocalAlbacete (@PoliciaAlbacete) 2 April 2018